Aloha Summer Wreath & Fun In The Sun
Thanks for popping by the Fun in the Sun Blog Hop!
Summer is officially here.. and should arrive in Oregon some time in August.
So in celebration of the season I got my Summahtime craft on.
I got all Aloha on a pool noodle and came up with some fun Summer door decor to share!
It's not on a door, because we are having lovely 40 MPH winds and it's super gusty out.
(but I'm sure this will do? right!)
I finally got to use some Washi tape!
First time ever.
I'm a "Washi" virgin no longer. I swear, I am always so behind.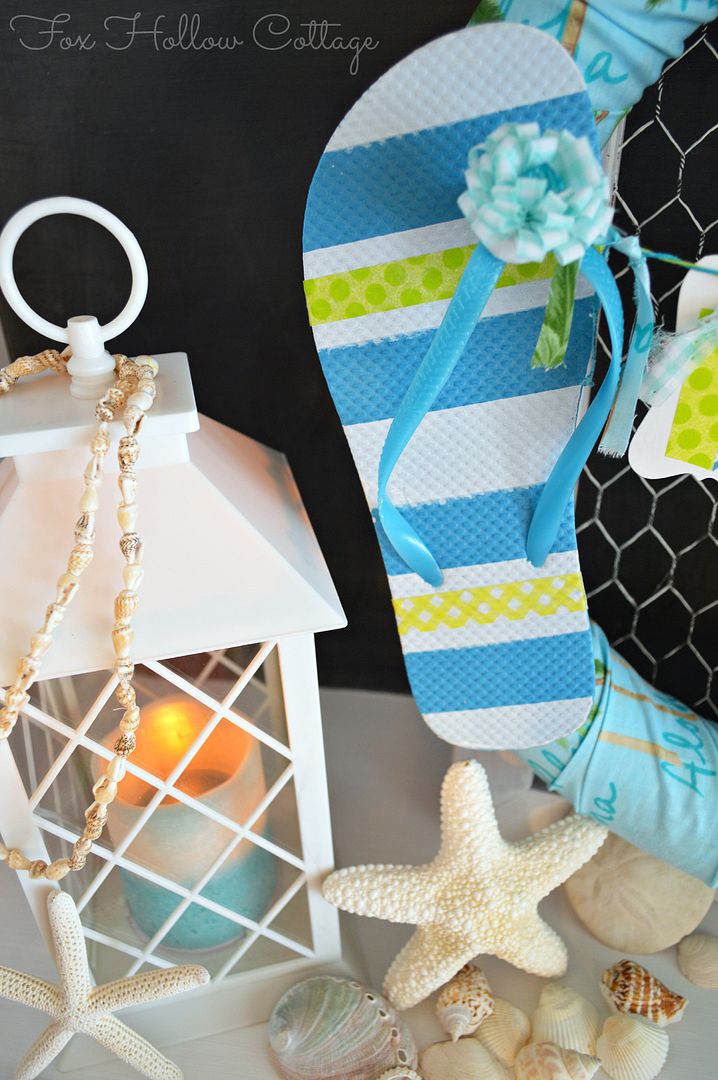 I used some on the flips (Dollar Tree of course!), and some on the little paper tags.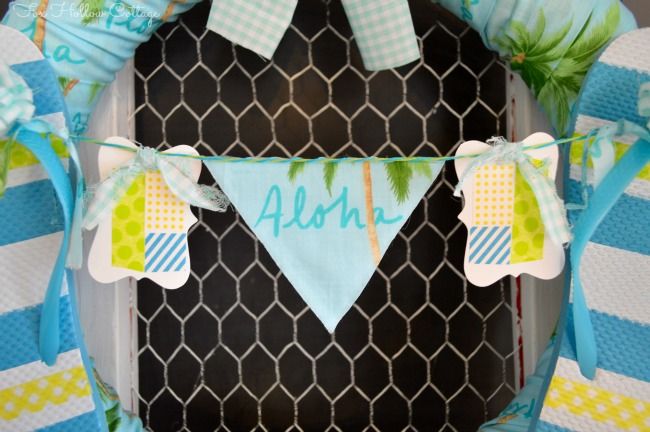 It reminds me of Hawaii.
I can almost hear the waves now…
Oh wait. That's just the wind howling.
Yep. Still here in Oregon.
I guess some coastline is better then none.
It is beautiful here, the beach just isn't quite the same though. LOL!
So, I keep my little slice of Hawaii on a shelf.
In my home. Out of the wind. Where I dream of Summer. And my next trip to the Islands…
But enough about me!!
I'm lucky enough to be joining up with this super-talented group of 13 other bloggers to bring you a grand total of 14 different Summertime ideas to make, bake, craft and create!
Yesterday, Kim from Sand & Sisal shared her Simple Summer Centerpiece. She does coastal decor so well!
Here is a peek… you don't want to miss it.
And tomorrow… Becca will be sharing her Summertime Porch with us at Adventures In Decorating!
(again.. a super secret sneak peek for you..)
The full line-up f talent is listed below:
Stop 1 My Uncommon Slice of Suburbia
Stop 2 Sand & Sisal
Stop 3 Fox Hollow Cottage
Stop 4 Adventures in Decorating
Stop 5 Setting for Four
Stop 6 Debbiedoo's
Stop 7 French Country Cottage
Stop 8 Cupcakes and Crinoline
Stop 9 Domestically Speaking
Stop 10 At the Picket Fence
Stop 11 Yellow Bliss Road
Stop 12 JoJo and Eloise
Stop 13 DIY Show Off
Thanks bunches for stopping by.
I am thankful every day that I get to share what I make and do with you.
I feel so blessed that I get to do what I am so passionate about.
And I mean that sincerely!!
PS: On the 27th, we'll be wrapping up with a link party and giveaway!
Don't worry.. I'll remind you (: