Chalkboard Fun At The French Farmhouse
Welcome all! Kimberly is here with us today sharing the fabulous brick mudroom entry to her French Farmhouse. Make sure to follow along as she creates her dream home. I've seen the design plans and it is going to be truly fantastic!
Take it away Kimberly!!
I'm so glad that you stopped by today! It's been awhile since I've been here. You see, I'm in the middle of demolition at the French Farmhouse so, these days, my opportunities to create something pretty are limited to artwork on my chalkboard door and, when I can get to the sewing machine, a couple of canvas drop cloth pillows.
When we moved into our home last fall, I painted the inset panels of the door that leads from our mudroom to the garage with chalkboard paint. Over the last several months, it's become a fun place to create messages that we see every day as we come and go.
Until now, I've been using only white chalk but last week, I was in the children's aisle of the craft store and I came across a box of colored chalk and picked it up. After a long, cold, gloomy winter and early spring, the little pop of color is a welcome addition to this space.
I moved a cute little chair next to the door. It has provided a resting spot for things that I need to remember to take with me the next time that I leave the house….like these canvas drop cloth pillows that I made. I have a sewing machine that embroiders but these pillows could be embroidered by hand or created using Sharpie markers just as easily. A sewing machine is a good thing to have around the house for sewing projects and making fabric repairs quicker so it would definitely be worth taking a look at TeachYouToSew.com to find the best machine for you. It'll let you get these things done much quicker and you'll be making your own outfits in no time!
I created this chalkboard door art using just a little chalkboard paint and some colored chalk. I simply wrote a cheery message and drew a flag banner which brightened up my boring garage access door.
I added a cute little chair and a couple of canvas drop cloth pillows to create a sweet space that gives me a place to set things that need to be taken with me when I leave and one that makes me smile every day!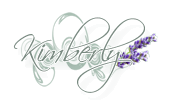 Read Serendipity Refined Here | on Facebook | on Pinterest
Hi guys! Just a quick note that you can now Follow my blog with Bloglovin 😉