Charming French Cottage Farmhouse Home Tour
Hello FOXES! You are in for a big treat today. We get to take a peek inside Emily's darling home. To me, it's a perfect mix of everything so many of us love—a little cottage charm, soft French influences, and the relaxed farmhouse feel that says "we live here"! It's cozy and elegant at the same time. 
Hi! I'm Emily, from LeCultivateur. It is such an honor to be here today to share a little peek into my home.
First, a little bit about me and my home. I am a wife, a mom, and an avid DIYer! A little more than five years ago, my husband, our four boys and I moved from our little townhouse to a new build with more room for our growing boys. I had always told myself that we would stay in our townhouse until we could build the custom home or find an old fixer upper that I had always dreamt of! Well, life doesn't always happen how you dream it will. We moved into a brand new house, but not custom at all, it was basic and completely builder grade, but it was in the right location and the right size, so it felt perfect! I was so excited to start the slow journey, project by project, turning this house into our home. Here are a few "before" pictures of my house, before I started making it my home. It's always so much fun to see how far a space has come with creativity and hard work!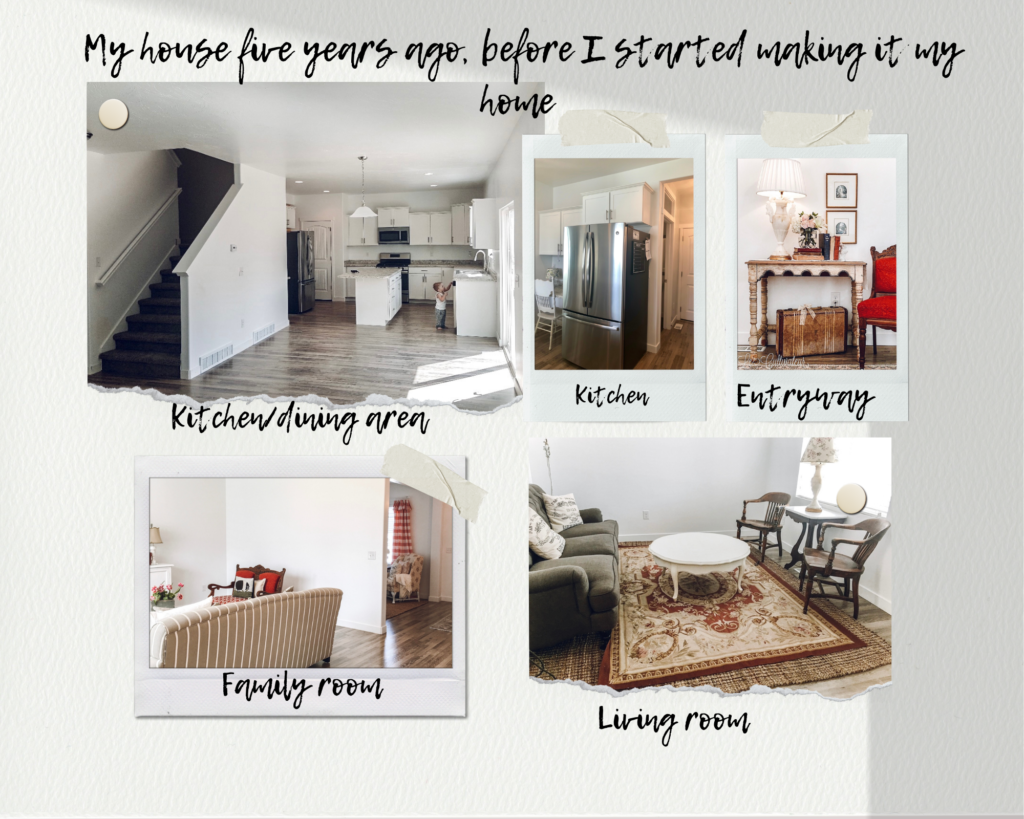 Charming French Cottage Farmhouse Home Tour
Welcome into my home!

I recently added this large print floral wallpaper to my entryway and I couldn't love it more! It adds that dreamy, romantic feel that I adore.

The living room is right across from the entryway. I added a touch of the same wallpaper above the mantel to help tie the two spaces together.

One of the first projects that I tackled in my house was to

build this DIY faux fireplace

. I love how it completely changed the look of the space, and of course, it is so much fun to decorate for the holidays!

Fresh flowers, vintage books, and candles are some of my very favorite things to decorate with!
I have done quite a few projects, both big and small in the kitchen area. This DIY kitchen island was one of the many projects that my boys helped me with during the big C shutdowns. My boys were home from school, my husband was working from home, we did school work and worked on projects all day. We made the best of our circumstances, and had some fun times!

Another project that I DIYed in my kitchen was framing out the refrigerator for a more custom look.

I took down a cabinet that was by the sink, added open shelving, and recently found this awesome antique barn light that I hung above the kitchen sink.


Where this stairway banister and railing is now, was once a half wall. This was one of the first projects that I wanted to tackle when I moved in, but I wasn't confident in my DIY skills until recently. I am so happy it is finally done!

A couple of years ago, I built this tall cabinet to hold all of my ironstone and vintage dishes. I get asked about it all the time. Everyone seems to love it and so do I!! It's always exciting to fall in love with the final product of a DIY project!





One of my favorite rooms in the house is my two youngest boys' room. It's a room full of whimsy and wonder, with a lot of coziness!


I used the pages from one of our favorite books, Where the Sidewalk Ends, to create this unique wallpaper. I often see them starring at the wall, reading these poems to each other. Isn't that just about the sweetest thing ever! This wallpaper is one of my favorite DIYs!

Before I end this post, I have to show you my favorite Facebook marketplace find ever!!

I got this gorgeous bed frame from the Facebook marketplace for just $100! I have searched far and wide across the internet for a bed like this, the best price that I have found is around $2000! There is no way I would have been able to afford this bed if it weren't for the marketplace! Thrift stores, flea markets, and the Facebook marketplace are my go-to for beautiful affordable pieces!!

Thank you so much for taking a minute to peek inside my ever-evolving home! I have lots of projects going on right now, and big dreams of future projects, so if you like affordable DIYs and decor be sure to check out my blog, Lecultivateur.com
Hello from Shannon again. Didn't I tell you!? I know!! That gorgeous bed, all the affordable DIY projects, and so many cute details to linger over. Emily is a doll!! And you can see she creates such warm, livable spaces, and some of the best vignettes around. Give her a follow, and tell her hello from me. xo Shan
Want to peek inside MORE pretty homes? 

CLICK HERE or on the image below…