I'm so glad today, of all days, you are here at Fox Hollow Cottage.
Myself and a few other paint lovers put together a wonderful giveaway for YOU!
We are thrilled to be sharing some of our very favorite paint makeover supplies and that we get the chance to offer a lucky winner a whole bunch of wonderful things to get your New Year pumping on the painting front!!
(Plus, a lucky runner-up will win something pretty wonderful too.)
.
Come on, I want to show you what you can do with some of the great products we are giving away today.
I've tried almost everything available from the Maison Blanche Paint Company, and I continue to be amazed and delighted with this comprehensive line. The owner, Annie Omar, has developed and honed so many exciting and innovative products. You know there is a great creative passion driving her!
This is a makeover of a makeover… of you guessed it, a MAKEOVER!
You gotta love paint right?
And oh how I do!
 Click Here to see how I used Maison Blanche Paint and Lime Wax.
.
Here I changed a dated, minty no-no into a Silver Mink oh yeah!
 Click Here to see how I used Maison Blanche Paint and Lime Wax.
.
This was a brand new purchase.
… it just needed the Shannon stamp of "this is MINE!" on it 🙂
 Click Here for More Target Bar Cart Before and After.
.
A great thing about the Maison Blanche paints, beside you being able to use on just about anything, without pesky priming and sanding first, is that with them being chalk-based, it acts like…
a Chalk Board! 
Maison Blanche's "Wrought Iron" is a sooty, deep, true black. I love it. In fact, I painted above my fireplace with it too. It's such a fun element to decorate with!
Open Kitchen Cabinet Makeover and Chalk Stenciled Design.
.
What's better than one shade of Aqua?
SIX.
Six is way better than one.
Get the Ombre how-to by clicking HERE.
.
All of these projects were achieved with my tool of choice. Purdy.
My dad started me off with Purdy brushes and I've been spoiled ever since. I'm sure I've told you how I've got a collection of brushes! When we painted the house together, we were always fighting over who got to use which brush and it felt like we always wanted the same size or type of brush at the same time! So I marched right down and got us some doubles. Some of the best money I ever spent. I mean… he'd be up front and I'd be in back, on the scaffold doing trim, and it was a dang mini circus. Much better with the doubles after. I assure you. I still make use of my multiples because sometimes, I've got several colors going and I wrap them up, work on the next thing, unwrap and go straight into my second coat. That too, is such a time saver!! Okay so enough about my Purdy paint brush fetish… hahaha.
I've yet to have the delight of working with the HomeRight sprayer. I was gifted by a friend (more on that later) the finish max and I'm just waiting for a nice Spring day to break into it! I've got a dining set that is ready for a new color and I can't wait to try out spraying my chairs with the help of this tutorial.
How To Spray Paint Dining Chairs from Debbie at Refresh Restyle
(because everyone knows chairs are a pain in the booty!)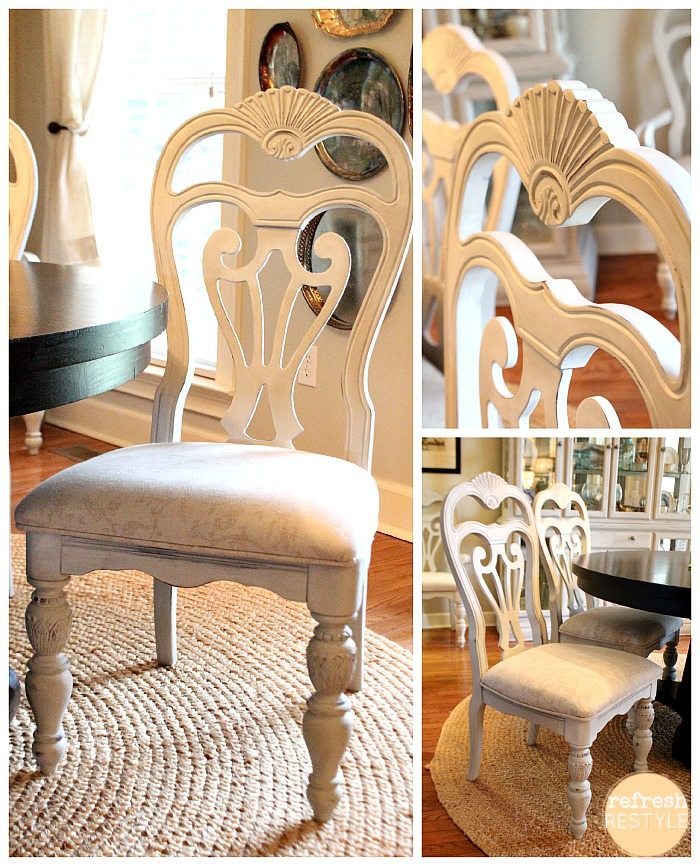 – and BONUS! She shares how to use Maison Blanche chalk based paint… in a SPRAYER.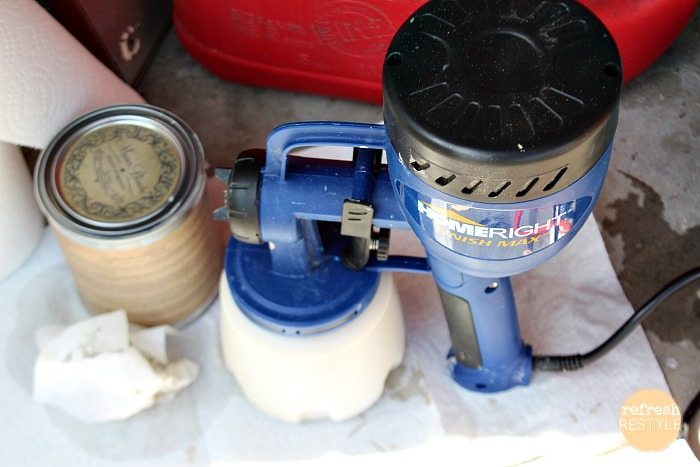 Okay, enough about all that.
Let's get down to the GIVEAWAY!!!!
The Grand Prize Winners Package Will Include:
One Lucky Runner-Up Will Receive:
Best of luck to you in the giveaway!!
Please feel free to share on your social media pages with your family, friends & followers.
Please Note: FACEBOOK COMMENTS ARE NOT ELIGIBLE.
They can not be tracked and are not a valid form of entry.
You can visit these great companies at the following locations:

Maison Blanche Paint Company on Facebook  | Instagram | YouTube
and find HomeRight on Facebook | Instagram | YouTube
as well as Purdy on Facebook | YouTube
.
PS: huge thanks to our wonderful sponsors for supplying the products for this giveaway!
My Go-To Paint Makeover Favorites (plus a painters dream giveaway!)