Hi, Fox Hollow Cottage friends. I am thrilled to be a new monthly contributor here for Shannon. Shannon lives on the west coast in Oregon and I live on the east coast in Lancaster County, Pennsylvania. But, we have a lot in common – a love for all things vintage, cottage, and farmhouse style; and we both like to get creative with a good DIY project! Each month at Fox Hollow Cottage, I'll be sharing quick DIY or decor idea to brighten up your home.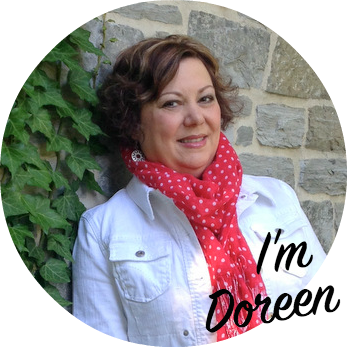 You may be wondering about my blog name – Hymns & Verses. I actually began my online journey with an Etsy shop where I sell decor items that feature lyrics from songs and hymns. Here are some examples of things I sell in my Etsy shop.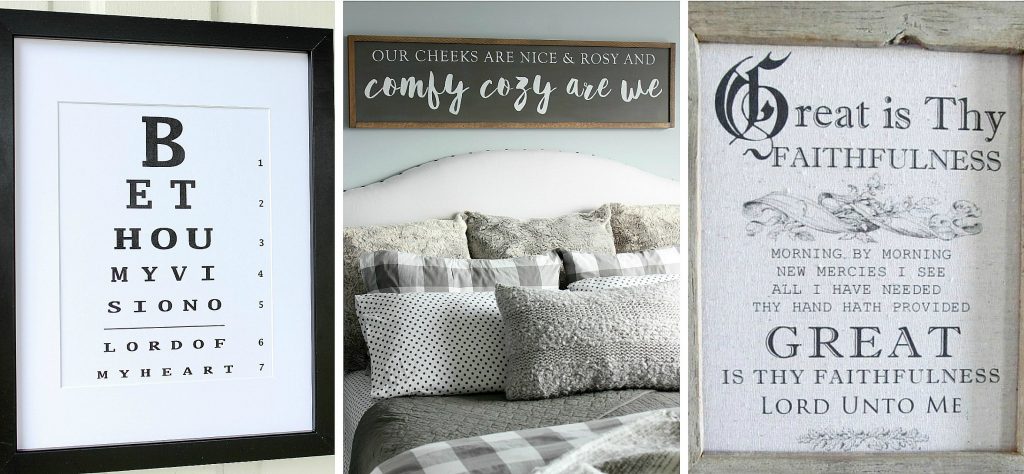 Once my Hymns & Verses Etsy shop was open, I discovered the blog world and was inspired by other blogs that also had an Etsy shop. So, I continued the name Hymns & Verses to my blog where I share the updates we are making to our home, DIY projects, and bits of everyday life. My home is what I would call an eclectic mix of cottage and farmhouse style. I love to decorate with vintage finds and things I make or repurpose. I enjoy sewing, painting, and getting my hands dirty in the garden! That's a little bit about me – now, I want to share some photos from my home so you can see a bit of my decor style.
This is a photo of my living room from last summer. My mantel featured cuttings from my perennial garden – ferns, Solomon's Seal, and Hostas in simple glass vases from thrift stores. Since this photo was taken, we've added a white planked wall behind the fireplace.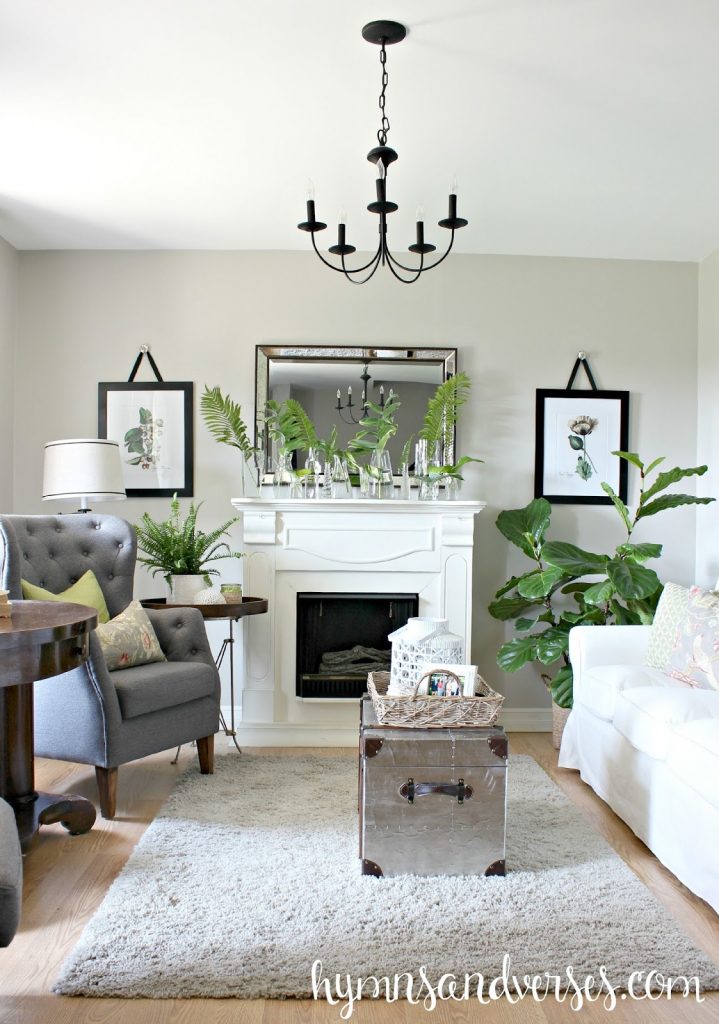 Here's a peak at my dining room. I got the gorgeous lavender topiaries at Costco this spring and so far – I have kept them alive!!! The feature wall is stenciled, the dresser is an auction find that I painted, and the corner cabinet belonged to my grandmother.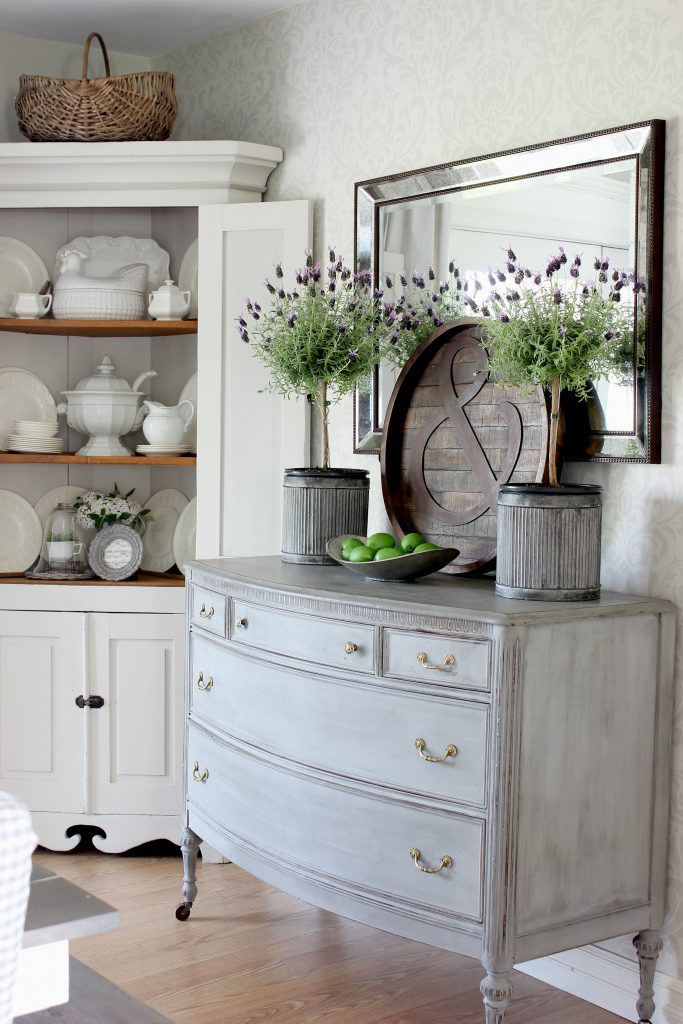 My favorite place to hang out this time of year is our screen porch! This is also from last summer. I'm slowly getting it ready for this year – it's been terribly rainy and chilly here in Pennsylvania and I hope that trend ends soon!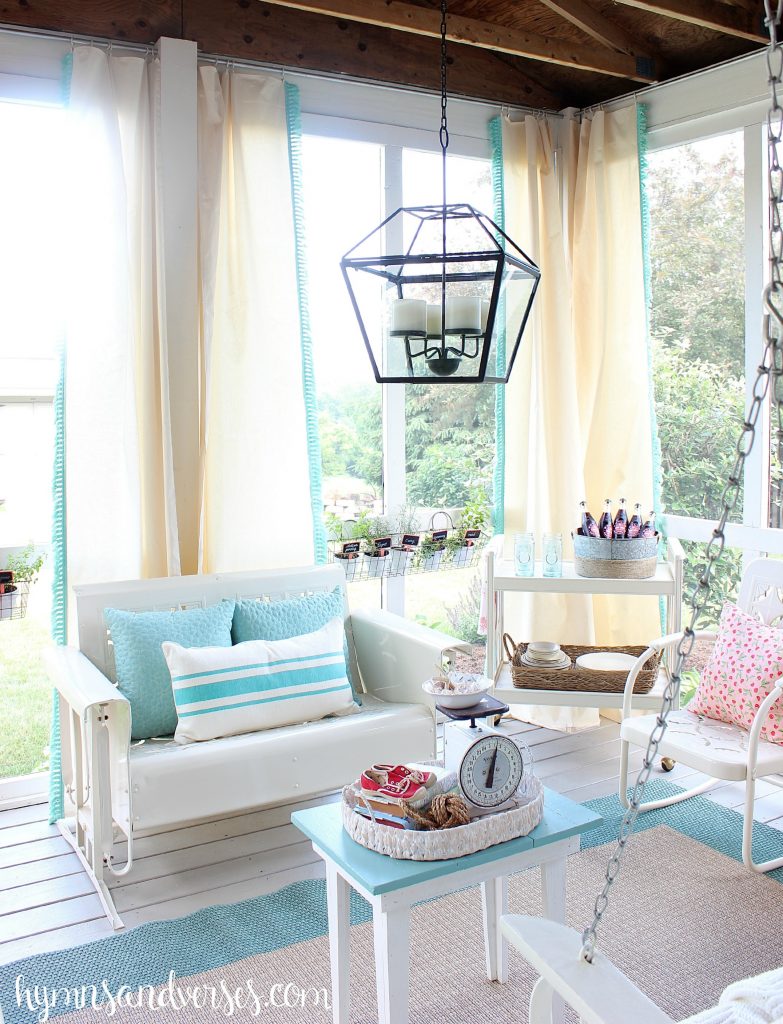 One of my all time favorite DIY's is this old door message center. It kept a busy family with three teenage boys organized – keys off the dining room table, hats and jackets hung up, reminders written on the chalkboard, and a place to keep the mail.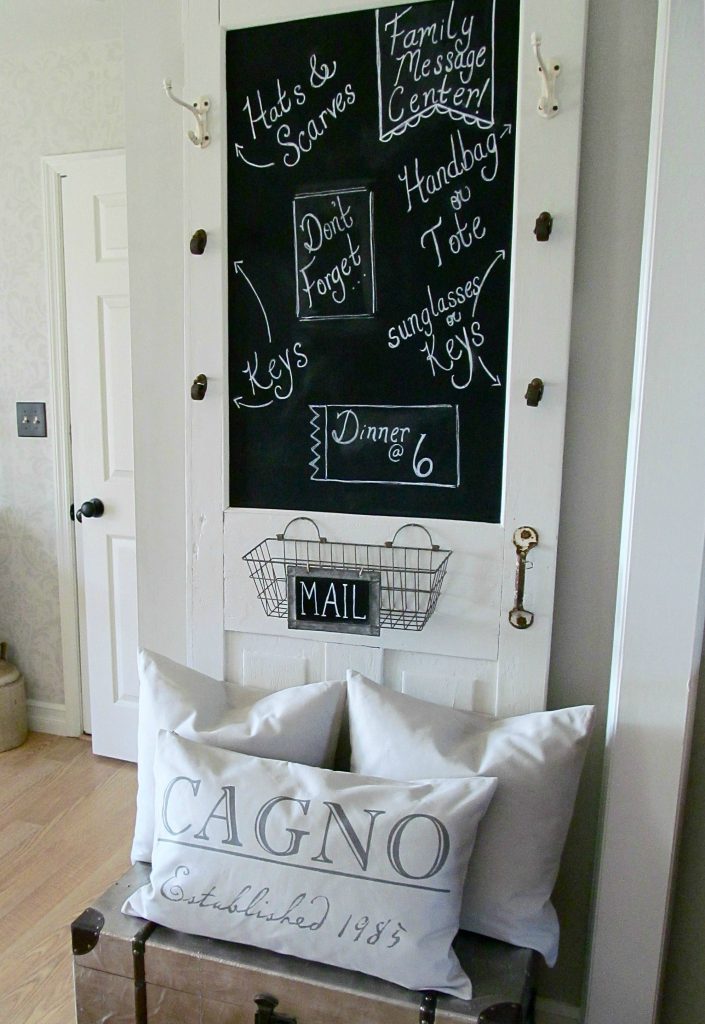 Thanks, Shannon, for letting me share a bit about me and my decorating style today! I'll be back here next month with a fun summer project! In the meantime, I'd love to have you visit me at my blog! Click the image below to take you there.