Welcome! 
To the Power
of
Pinterest Weekly Link Party & Blog HopWhere I pair up with the fab Miss Doo at
Debbiedoo's
.
So, when you link up at either of our blogs, you show up at both! It's double the fun.Before we start the party, I need to give some special attention to some of my very fav party goers who attended last weeks get together!
It's "Friday Fav Features"

I've been busy behind the scenes here at Fox Hollow.
Last weekend, I was painting just about anything that sat still Magnolia.
I'm sure I got the itch from Debra.
Yeah, I'll blame it all on her!
This dreamy foyer from Common Ground with it's fresh, calm, Spring look is full of white goodness and just the perfect amounts of texture and interest! This entryway really say's "Welcome to our home".


You know myself, along with half the free world, is  dangerously in love with burlap right? Well, I sort of have a bunny thing too. Add a reclaimed window and it's an upcycled project to get up and cheer for!
From Julie at ReStyle ReLove.
Upcyclyed Window – Framed Easter Bunny Burlap Art.
Have to give a shout out to this burlap basket project.
This a total DIY from the ground up project.
Purple Hues made this. From scratch.
And it's awesome.

DIY a No Sew Burlap Basket from Scratch!
Sometimes… it's all in the details.
The Perfect, Vintage-y Details.
…and then, there are times where you need to fake it!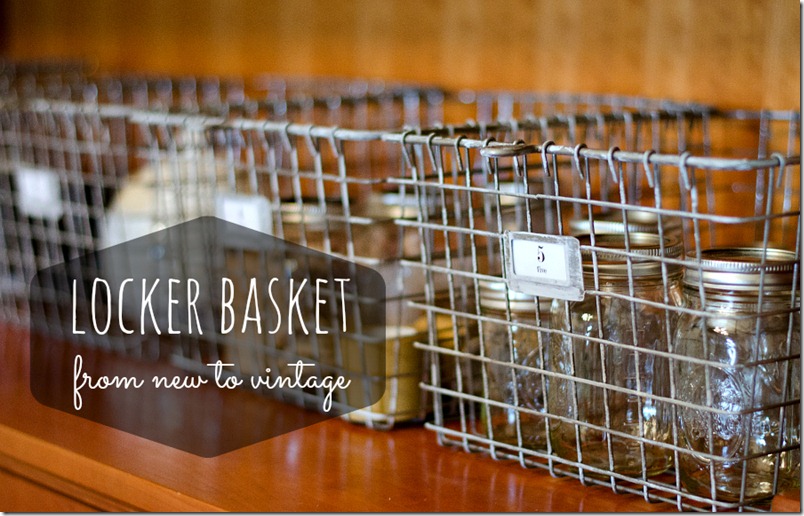 Make New Locker Baskets Look Vintage with It All Started With Paint.
Love this Spring wreath from reFresh  reStyle!
I does say "SPRING!" so well. Plus, she walks you through
making your own with a super clear tutorial!
Make A Spring Wreath – Easy To Follow Tutorial!




Naptime Decorator shared a super simple Spring
Centerpiece.I love quick, easy projects that offer
a lot of bang for the buck. This one fits the bill!

Simple, Inexpensive Spring/Easter Floral Table Centerpiece.
Come On.
Really?
Okay, I need some of this.
Doesn't this look like SUNSHINE.
And happiness and bunnies and kittens and everything wonderful in the entire world?
No?
 Good. More for ME 🙂
Mom On Timeout…  send it all over.

Rainbow Sugar Cookie Bark Recipe.
Can you tell I have a sweet tooth?
Too much temptation I tell ya.

Caramel Chocolate Stuffed Cookie with Coconut M&M's.
Easter / Spring Dessert Recipe from Simply Klassic Home.
This next feature is a completely inspiring makeover
and just the sort of DIY thing I love!!!
Yes. The girl has a beadboard refrigerator.
Here is a another SUPER diy delight!
Have Bi-Folds?
You don't have to…
Full DIY Bi-Fold Door to French Door Tutorial!



This before and after show stopper tells a story.
And the bold black & white graphic element makes this
"after" one to treasure for many reasons.



A sentimental subway art before and after dresser makeover.



I'll leave you with this last feature…
A beautiful room reveal from The Endearing Home.
It's utterly charming!
Please don't miss all the pretty pictures. Go Look.



Charming Classic Cottage Mix Home – Living Room Reveal and Tour.

NOW, Let's get to POPPING!!
Get YOUR project pinned on Pinterest
by leaving your link below.
And

 

pinning

 

a

 

few

 

in

 

turn

!
It's that easy.
This is just like a regular link party, 
with the BONUS that you get your link-up
automatically pinned on Pinterest. 
Catch my eye… and be FEATURED TOO! 
I love to show you off.
FEATURED projects will be pinned by me to my 
Most Trafficked Pinterest Boards 
(some with over  100,000 followers!) 
and may be shared on google+, the Fox Hollow 
Cottage facebook page and/or tweeted about!!
Simple Rules
1. Link up a post you wish to be pinned.
(only one please, so the re-pinning flow goes correctly)
2. Stick a Pin in your neighbors!
Pin the two links before yours.
3. Please add a text style link back to the post you share. Debbie and I would appreciate it!
Note: By linking up you are giving us permission to spotlight, highlight, shout-out, pin, tweet and share in general your awesomeness.
Need More SPRING?
***This will be one of my last posts as a blogger hosted blog***
If you want to continue to read Fox Hollow Cottage,
please take a moment to visit my sidebar (right side/middle) and add your email to the "subscribe" box and click submit.
You'll get a email asking you confirm this. Do it. Easy. Done.
Hope to see you soon at
the improved Fox Hollow Cottage
PS- The sky is falling!
Just kidding… you would think so though, right?
Google is doing away with it's reader, but you can follow FHC on Bloglovin as an alternative. 
Or
 as always, sign up to get FHC by popping your email address in the "SUBSCRIBE" box as instructed above. It's super simple.
This content is original to Fox Hollow Cottage and belongs to Shannon Fox.
Appearance in full on any site other then Fox Hollow Cottage is theft!