Hi there Fox Hollow friends! I'm so glad to be back here at Shannon's today to share my red, white and blue – ummmmmm aqua blue – potting bench! Shannon and I both love us some aqua! I use pops of aqua inside my house seasonally, but outdoors – I tend to use it more!
Red White and Aqua Blue Potting Bench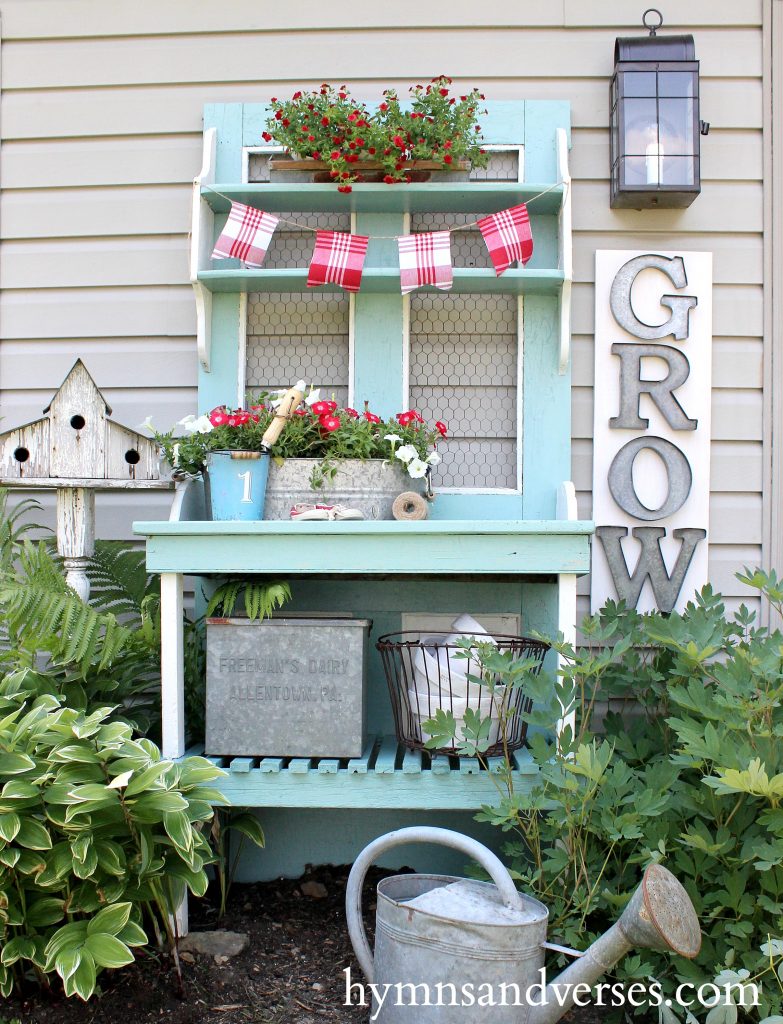 My front door is aqua, my back door is also aqua, my porch furniture features aqua, and even my potting shed window boxes are the same shade of aqua! Today I want to share my aqua potting bench that was made from an old door. This is the fourth summer for this potting bench and it is out all year long. It has held up remarkably well to the sun, rain, and snow!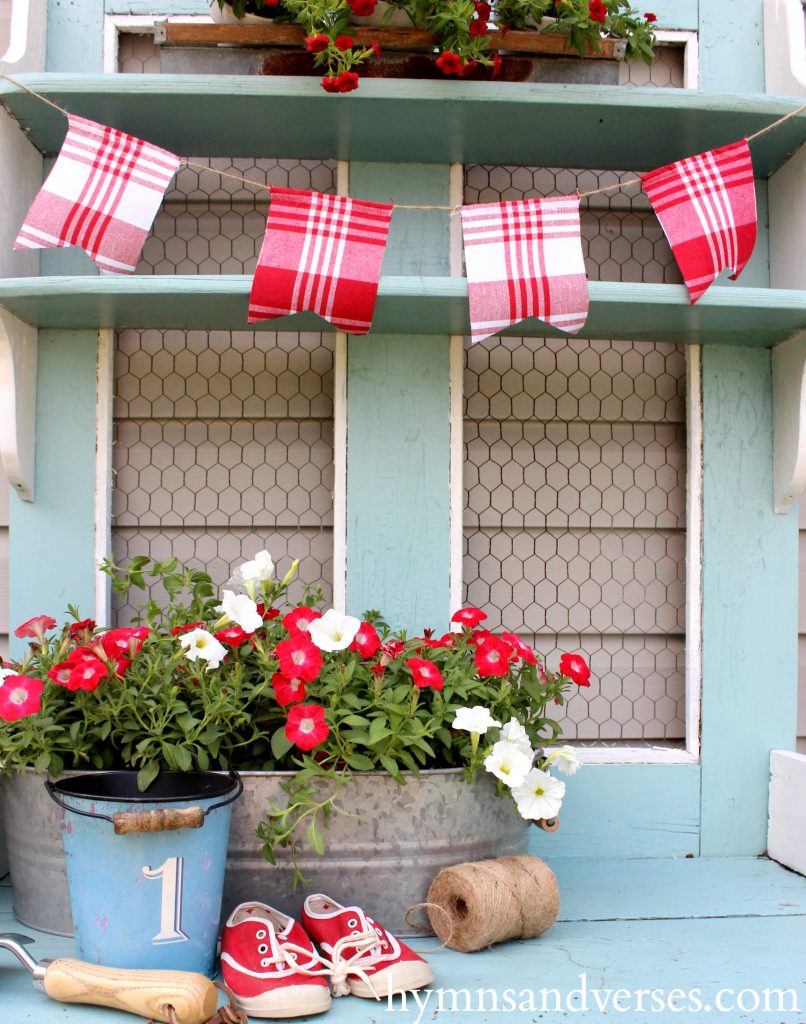 Even though I love my flower garden and working outside, I have to admit that I really don't use my potting bench that much as an actual "potting bench". I do use it when we have people over for a cookout. It comes in handy as an extra surface to hold drinks. Most days, tho, I like to add some flowers or plants and outdoor "accessories" to make it pretty!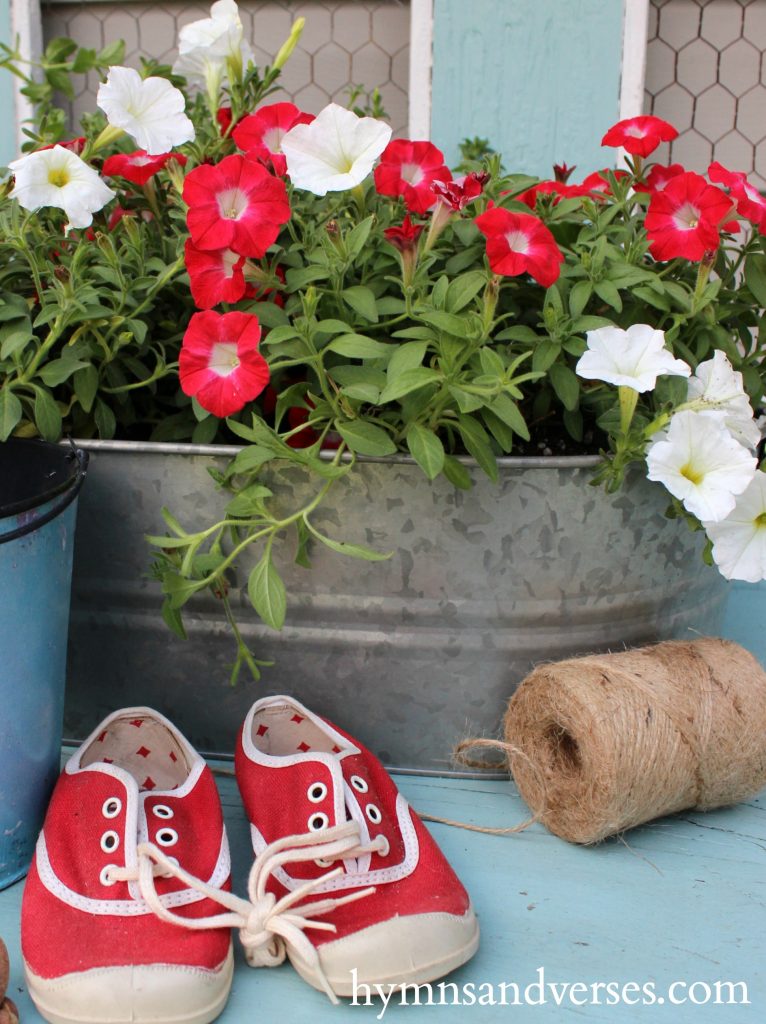 Doesn't this pair of vintage red sneaks look great paired with the red and white petunias!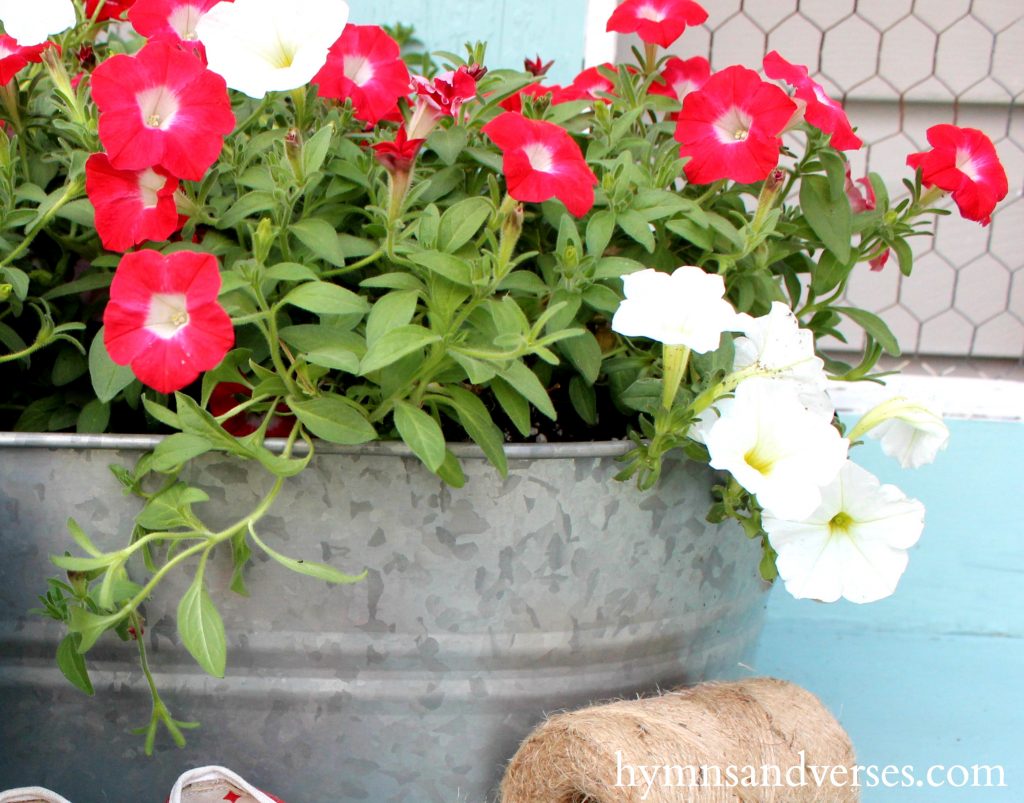 Petunias are so easy to grow in the summer. This galvanized tub is the perfect planter because it's not too deep.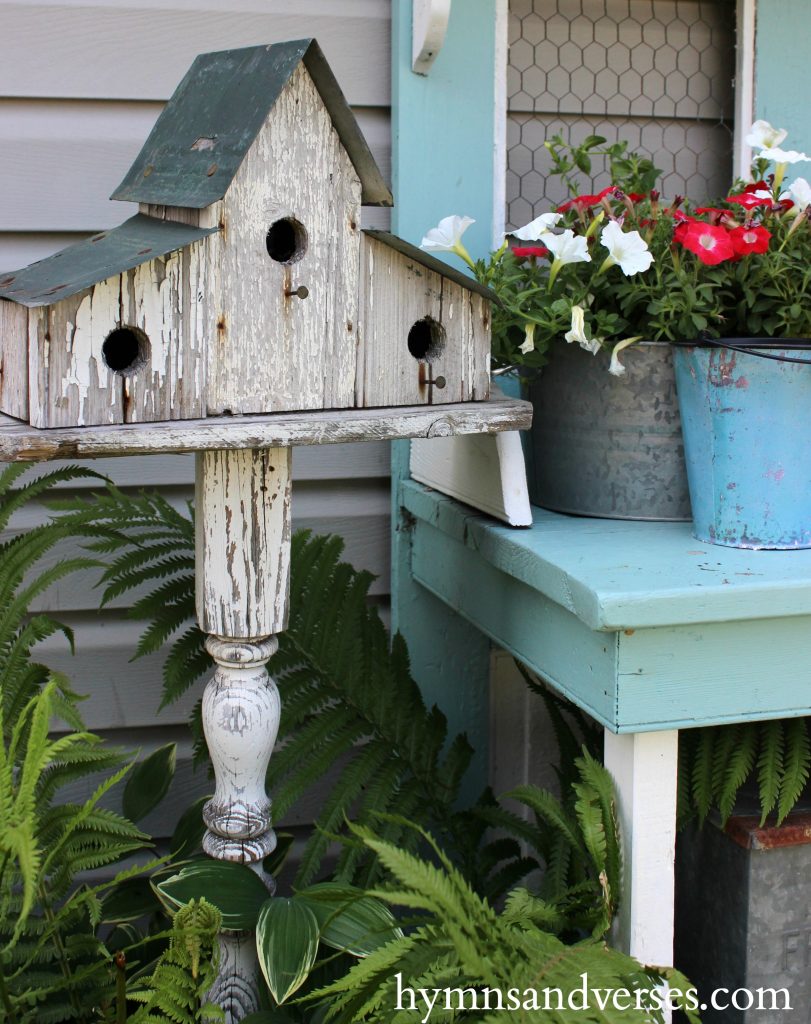 The same local craftsman who made the potting bench for me also made this adorable birdhouse. I mounted it atop a worn spindle to use more as a garden accent than a real house for birds. To be honest, I have a couple great hunting cats, so I don't encourage birds with feeders, baths, etc. in my yard! I do my best to protect them!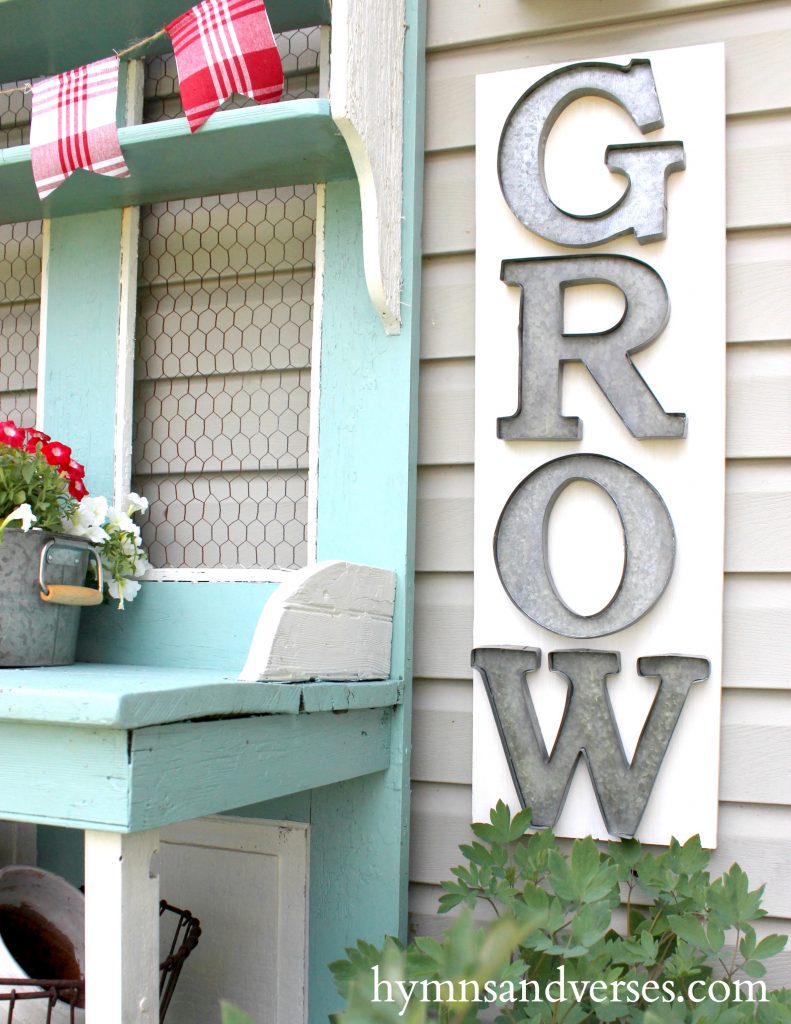 This year I added something new to the other side of the potting bench – this GROW sign. I picked up the galvanized letters at a local shop (but, I believe you can find similar ones at most craft stores) and mounted them to a board that I painted white. Easy, outdoor decor for the spring and summer months! I did apply a clear coat spray paint for some added protection from the elements.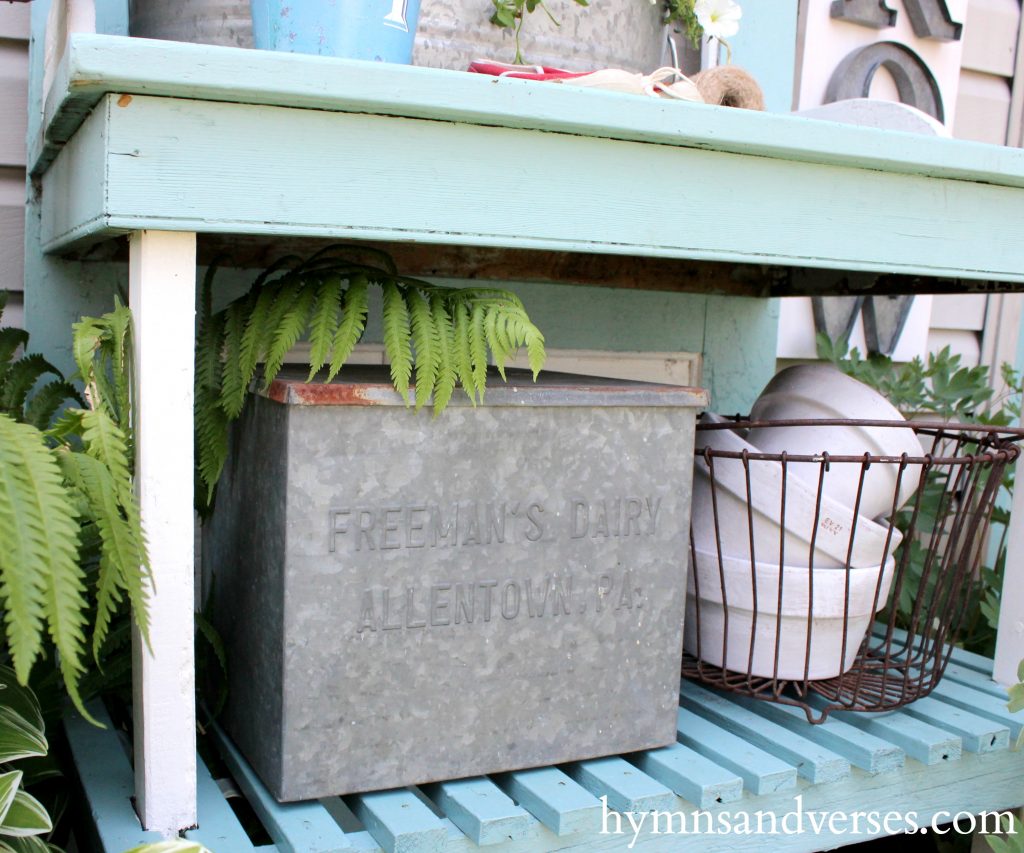 There are a few practical items on the bottom shelf of the potting bench. I use an old milk box to hold my gardening tools and gloves. They are protected, yet I have easy access to them. And, a few spare white washed clay pots are held in an old egg basket. I'm a sucker for flowers and I keep bringing more home. So before long, I won't have any spare pots!!!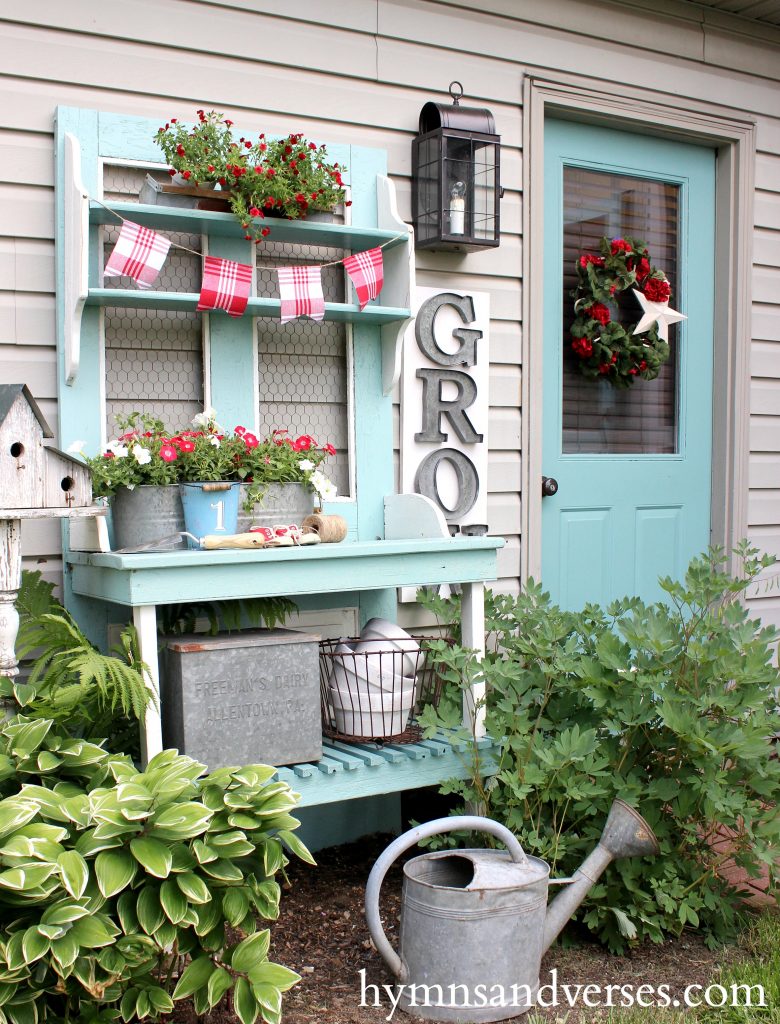 And, here's a look at the potting bench where it sits next to my aqua back door! This may not be your typical red, white and blue patriotic decor, but with a few small American flags, it'll be read for July 4th!

So, am I the only one who likes to do a little decorating outdoors in the warmer months? I'd love to hear your ideas! On Friday I'll be sharing how I made the red and white plaid fabric banner. It's no sew, won't fray, and will hold up outdoors. I hope you'll stop by my blog, Hymns and Verses, to read all about it!
You can also follow me on social media:
Pinterest * Facebook * Instagram
I'll see you back here at Fox Hollow next month! Thanks, Shannon, for having me!