Well The Weather Outside is Frightful
No really, it is!
You might notice that I don't share a lot of outdoor decor.
That is because I live on the coast.
In Oregon.
We get lots of rain and some wicked storms, that bring with them super high winds.
All that wet is not especially conducive to outdoor decorating.
I still want to add a little holiday cheer though.
So I turn to my little helper… my decorating BFF.
Command Hooks.
(The Outdoor/Exterior version to be exact)
Lucky me, we had a non-rainy day, the perfect kind to put up some lights and add some Christmas to the outside!
So I got to it.
I started with some things I knew would stand up the the rain without falling apart.
Natural elements like clippings were a no-brainer. That way, I knew I would not have to worry about drying them or cleaning them up before I put them away after the holiday. Just pitch em in the mulch pile and be done. Awesome! (removing the ribbons first of course)
I'm  not always sure what I want to use, so I gathered up a variety of burlap, jute, rope, etc…
I had some icicle lights I thought would be pretty along the deck railing so I stated off first by getting ready to hang those.
Our wood is all treated and I'm happy to use something to hang things with that does not include screwing or nailing into the wood. It makes it more susceptible to rot anywhere that you let water in. Command Hooks mean I don't have to make holes! That is a good thing.
… and it makes my hubby happy too!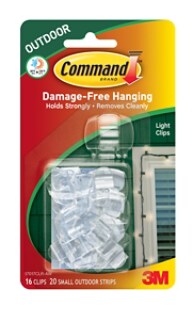 I used the Command Outdoor Light Clips. I was confident these would hold up to our weather because I used them last year on the front porch here to decorate for New Years Eve and they rocked!
Meaning = they didn't all fall off. hahaha.
Test passed.
After I put all my hooks on (following the simple package instructions) I laid my lights out and got them ready to go.
 I let the hooks sit for a spell as instructed, and started working on putting up my next set of hooks.
 I wanted to add some simple swags like this to my windows.
I gave my windows a good cleaning first, because they always need it! The wind whips the water on these something fierce and between that and the trees,  I swear they could be cleaned daily!
When working on glass, you want to make sure to clean it first but you also need to use Isopropyl Alcohol to clean the surface you want your hooks to stick too. This ensures a good bond. (don't worry it all comes off perfectly and you'd never ever know anything was ever there.)
– To make my swags, I used Cedar clippings.
I bundled them up in two semi even grouping and tied them with twine.
I add the wide burlap ribbon next, with the seam meeting in back.
Next, secure the burlap. Tie in the back with a tight, secure knot using twine.
Finish with a pretty bow, this will complete it and cover the twine!
Repeat.
I'm sure you could us any variety of greenery available to you.
TIP: I know that most tree lots, Lowes and Home Depot will give tree clippings for free!
Now these are not fancy, but remember, they are going to get blasted with rain and wind.
By not spending a ton of time or money on them… I can deal with that.
TIP:  Look for plastic wreaths. My wreath is plastic. Plastic I tell ya! You'd never know, it's so cute. But super weather proof. I see them once in awhile so they are out there, just touch and feel and I bet you can find one. Oh, or there is always google.
The weather-proof wreath is a great way to stay merry, and not sad when good/expensive decor gets ruined.
– If you live somewhere with better weather or a big, covered porch… then the sky is the limit! You can probably do just about anything. There are scads of wonderful Christmas porches out there! I've seen baskets, art, vintage ice skates, blankets and pillows, hot cocoa bars, even tv's and lamps outside!
After hanging my other hooks and making the swags, I was ready to get to my lights!!
I simply slipped the light strands right into the light clips.
I love them on the stair railings the best…
You can see all these lights from inside the house so we really get to enjoy them.
Our Grace Ward Lithedora really went crazy this year!
It blooms year-round, and the Deer don't eat it.
So I love it extra bunches!!
That's it.
Lights & Swags.
Simple, but just enough.
I don't dare do more.
… and honestly, the little red lantern is just for you.
After pictures, it got snuggled up right back inside.
Our Pacific Northwest is beautiful… but Mother Nature does not care one whit for my outdoor decorations.
She's totally bitchy like that.
I am so proud to be a Command Brand ambassador. That means I get to try and share lots of the Command line with you and I make a couple of bucks for my time.  It's important to me that I share real-life uses that we find for them in our home, and ideas for decorating with them that you might like. While I am compensated, please know that I only share things I think are of value, well made and useful!
You can find the light clips and window hooks I used for this project at the
You can also visit Command on:
FACEBOOK  |  TWITTER  |  INSTAGRAM
(these are great places to follow for free giveaways and such!)
I hope you liked my simple ideas and the weather resistant factor too!
I've already tested and approved of the hooks for use in rainy climates.
Hmm… maybe I could test them in a tropical climate next?
I'm sure I could get Command to send me, oh say, to Fiji.
I've always wanted to go there...
Shannon
For more CHRISTMAS… click on the photos below, and be magically transported to that article!
Holiday Home Tour
More Holiday Home!
Weather Resistant Outdoor Christmas Decorating Ideas