Eclectic Collected Vintage Modern Home Tour
Hello Foxy friends! I've got a treat for you today. We are going to Florida to meet Holli. Grab your sunscreen and watch out for gators. Ha, just kidding, she'll let us inside. It's all arranged. Her home is full of vintage, collected decor and has a flavorful, eclectic modern vibe. I think you're going to love it!
Welcome to our home. I am so excited to put together a few photos and show you around. I'm Holli and the site where I blog and share is called Bees N Burlap. I love many styles, as you are about to see, so get ready.
Let me introduce you my eclectically decorated world!
Modern Farmhouse… love it! Urban Industrial Design… can't live without it! Vintage Decor… I have a soft spot! Eclectic and Modern… everyone needs a little in their life! Mid Century… what's old is new again! I'm pretty much a lover of all styles.
I don't have one particular style and frankly, I feel like life would be boring if I did. I buy what I like, and I make it work with what I already have. (<— that right there is why I LOVE her folks. Okay, keep reading, I'll shush…) I love adding vintage pieces, touches of whimsy and strong design elements to a space. The adventure is finding them!
One of the first bold statements is right at the front door. I recently painted this on our door to represent the 5 wonderful people that make up this home. I love numbers, letters and anything typography related… as you'll see!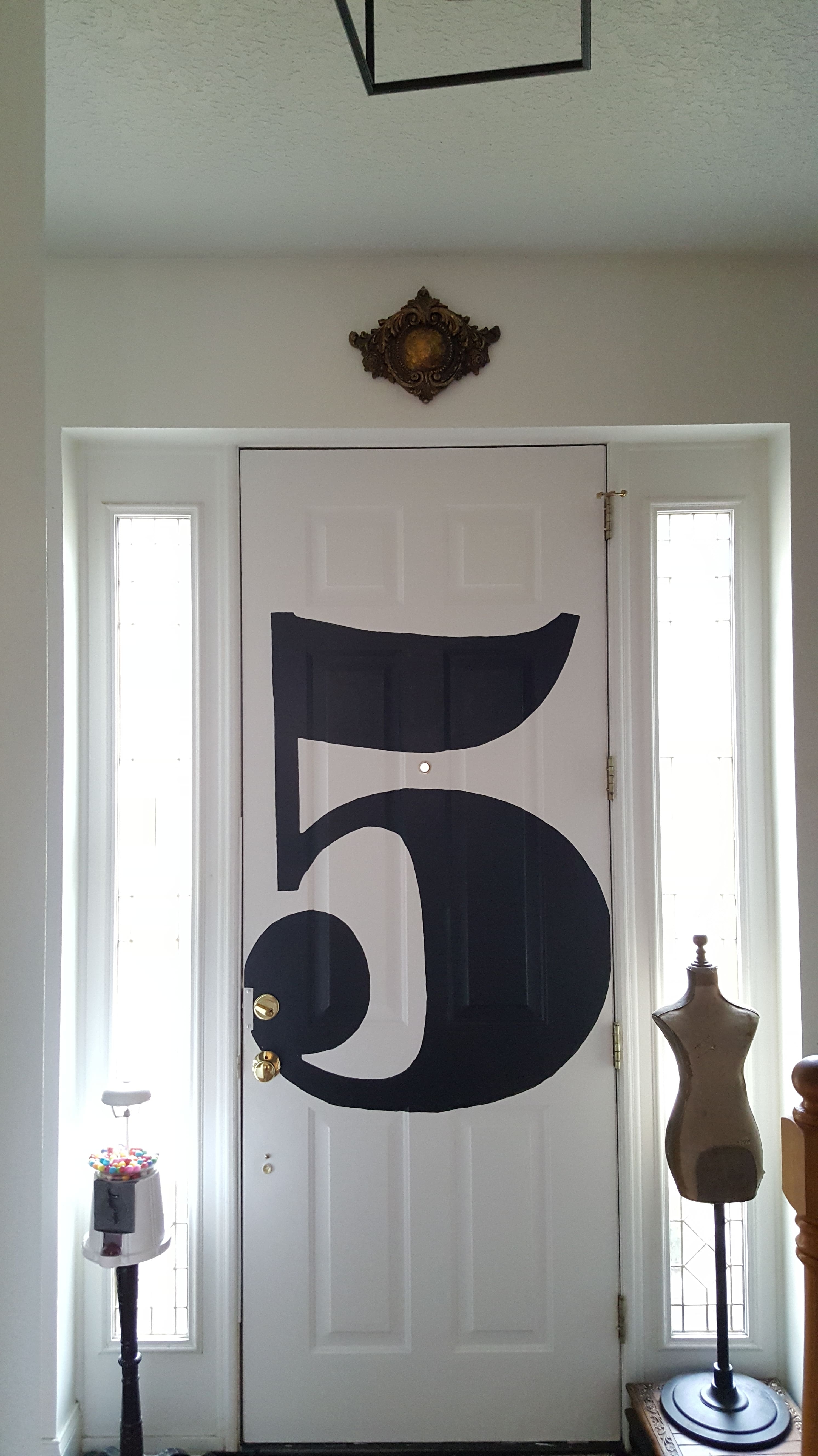 The nearby Gallery Wall is made of up a Vintage Bus Roll from London, an old locker for storage and a pop of funky modern urban art! Who says you can't mix modern with vintage? Also, this is a perfectly functional mudroom for a small space. We use this side door off the garage all the time. It's all about the details.
Our Family room is where we live.
It's where we hang out, play games, watch TV… and do just about everything else. It's in between the kitchen and the outdoors. We have a low profile leather sofa to fit the family. As much as I love white and the look of slipcovered furniture… one slipcovered chair is all I have. I love to add white and pops of whatever color I'm working with all around. I've never been a "buy the whole room" kind of person. Also, by having a neutral sectional that goes with everything… I can easily change out a chair or table and give the room a completely different look.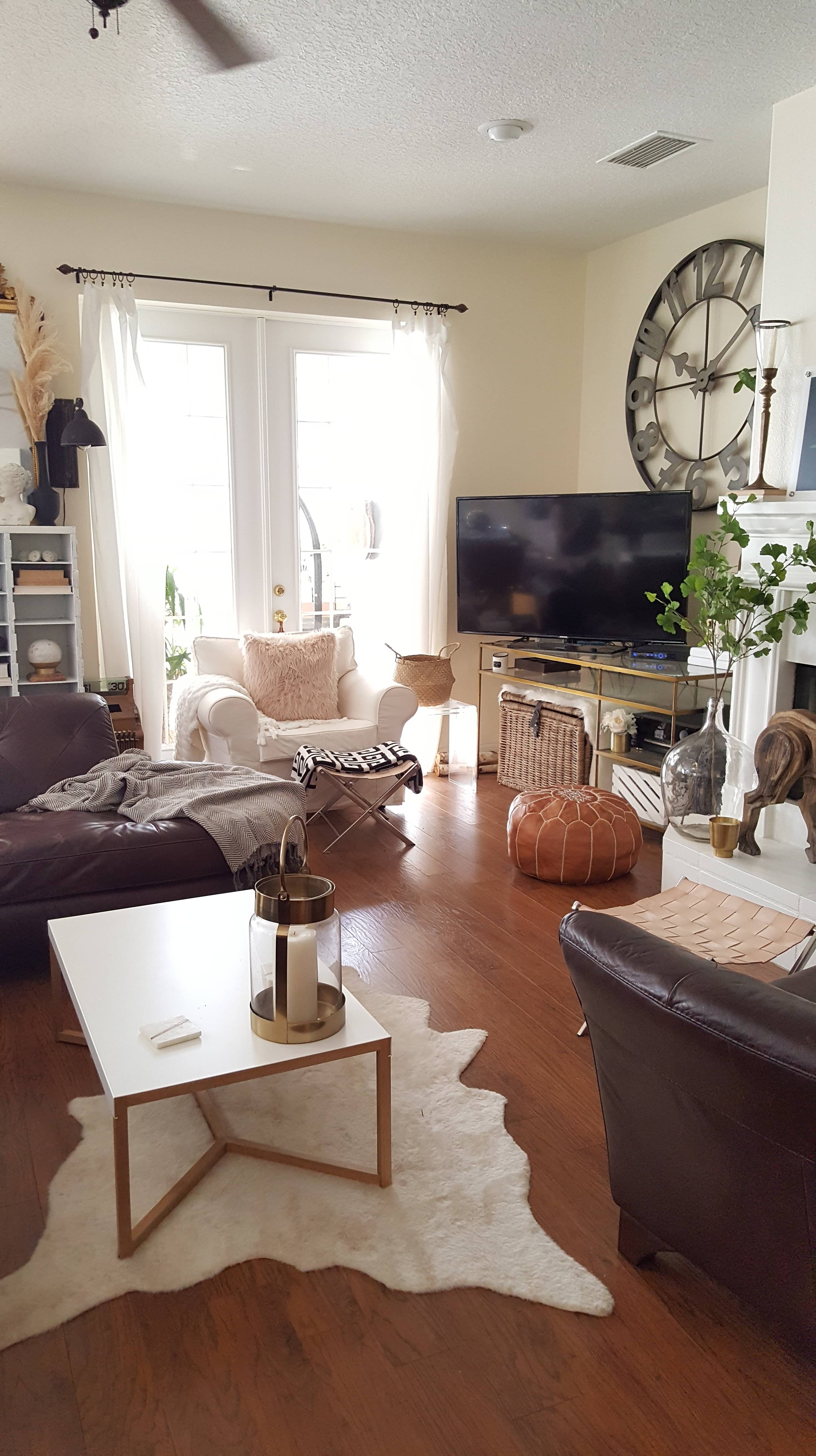 Trust me, I've done it.

(wink wink)
Around the room, you can see more of this color palette, especially on the old mail sorter that sits between the 2 sets of French doors in the room. Perfect fit and always easy to change with whatever the mood! This wall has a touch of all that I love… industrial lights, antique gold mirror, vintage mail sorter and lots of curiosities.
About that easy to change… I switched things around already, moving the mail sorter, for a freshly painted apothecary cabinet! You can check out the before version of the apothecary here.
I love changing out the mantle too! I recently painted it white… best decision I ever made. I shared how I did that here if you'd like to see. For now, I have this bold metal R taking center stage.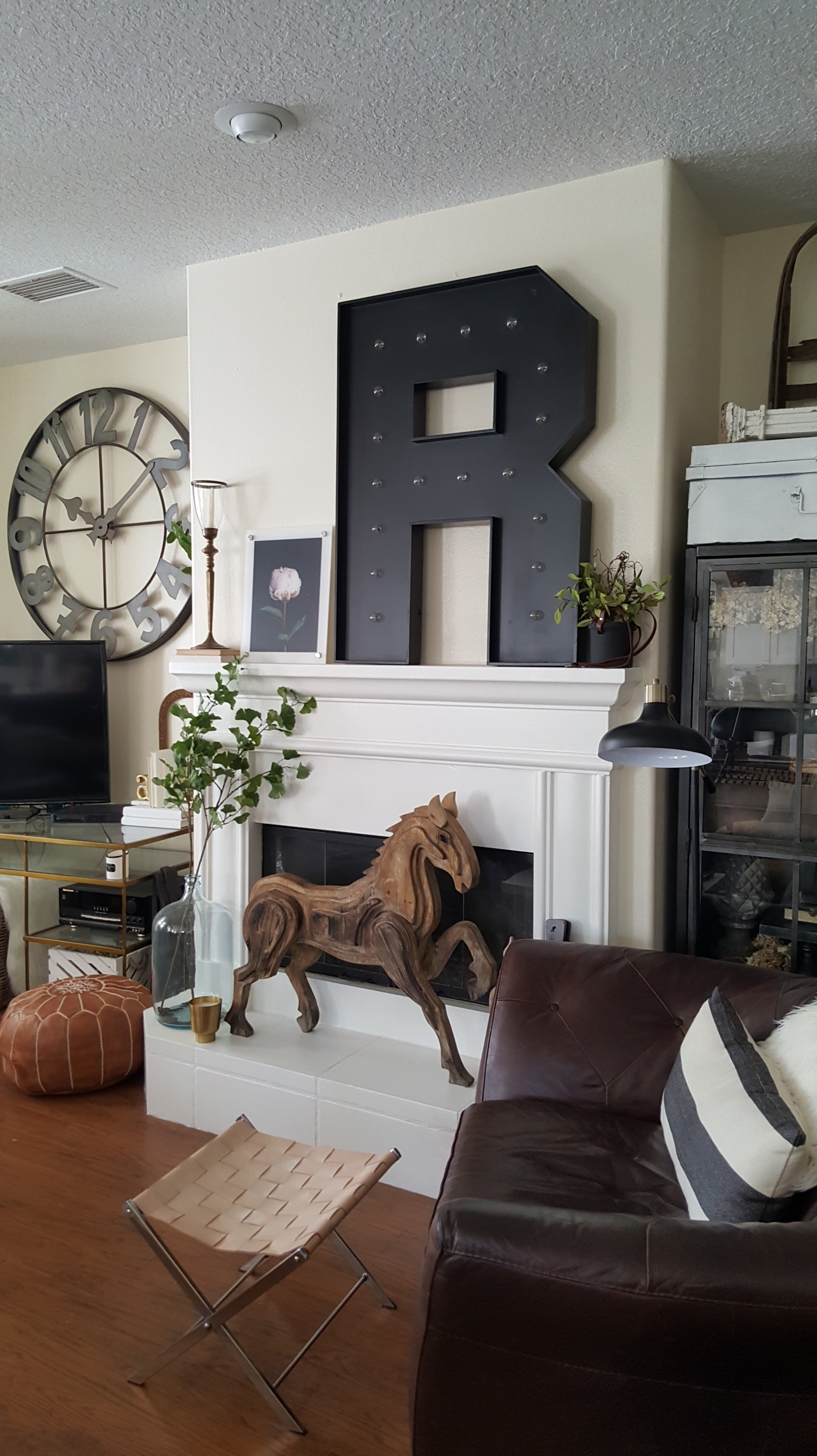 Lately, I've been loving the clean look of Black and White decor with the industrial touch…very Scandinavian. I added a soft touch with the pink Peony artwork and of course, my large wood horse adds a bit of texture. My color palette lately consists of whites and woods with black and blush accents.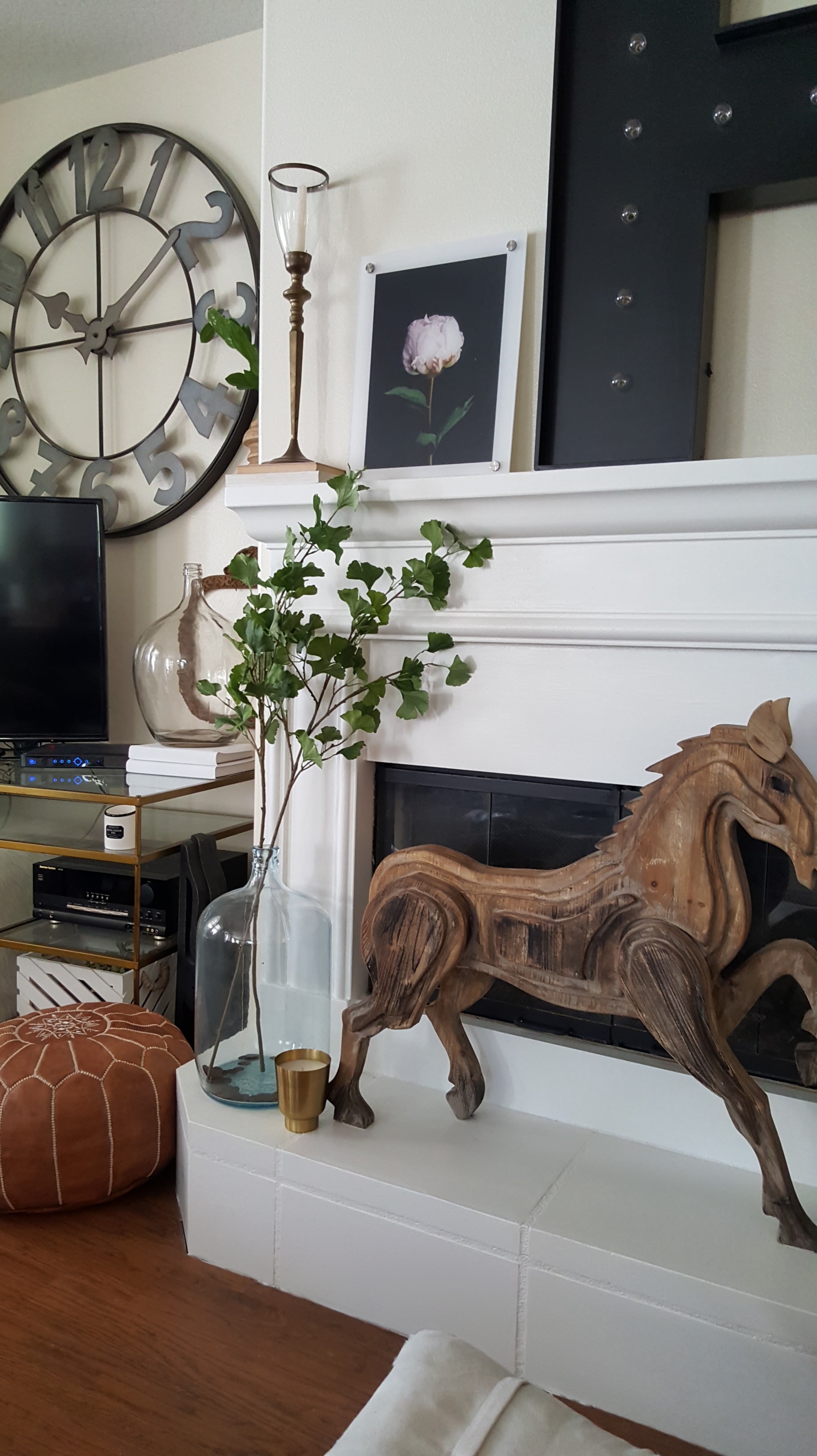 We have an open floor plan, and the next stop is the Kitchen.
Our first ever One Room Challenge subject was our kitchen. It was both scary and exciting to transform this space in six short weeks. We are so happy with the results! If you'd like to see what we started with, you can visit that post here.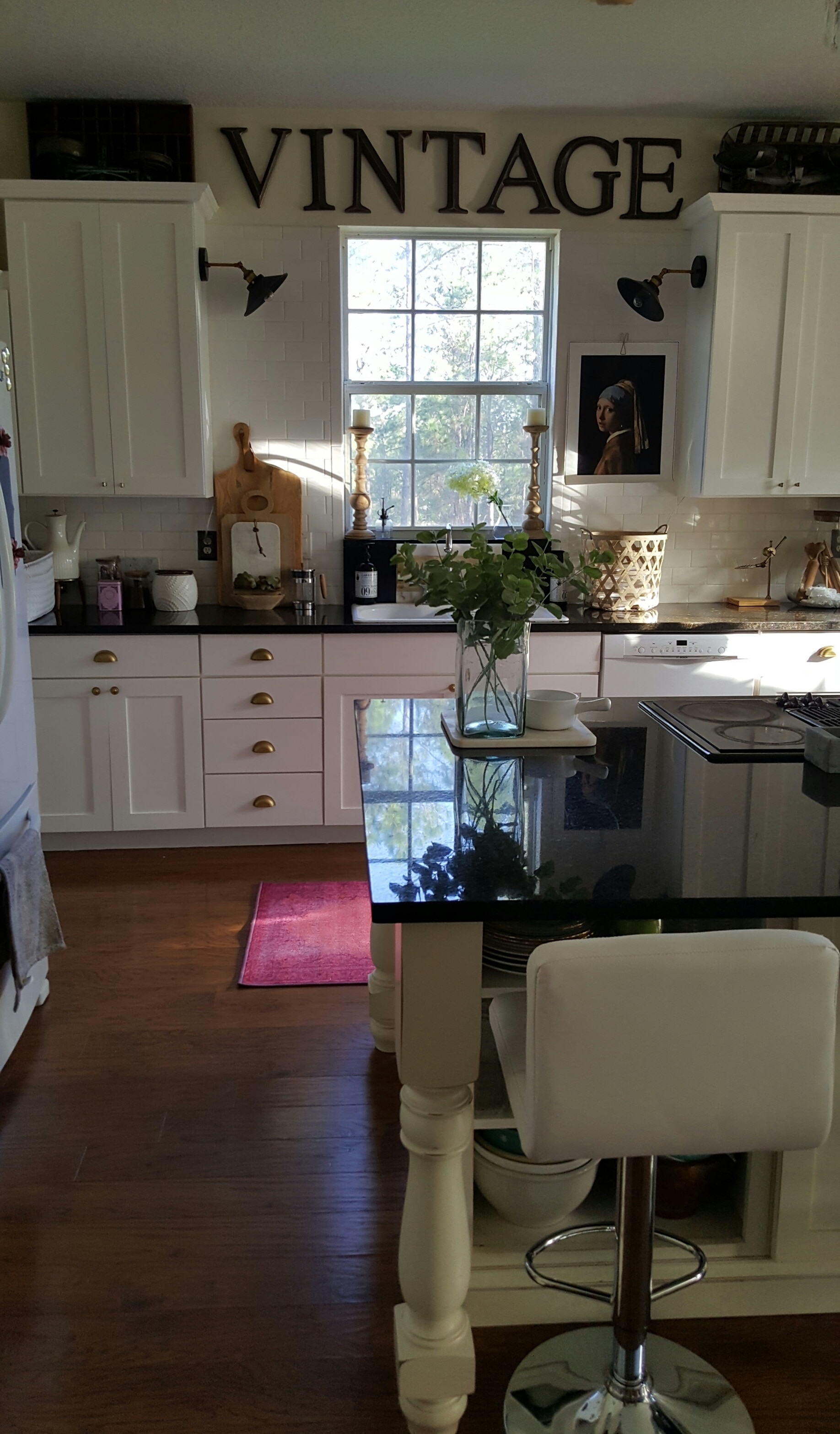 I recently added pops of Pink in the kitchen along with some new white stools for a Spring Refresh.
Because I love the "unexpected" I added a touch of art with this canvas. The Girl with the Pearl Earring is one of my favorites and has the perfect hues for this space.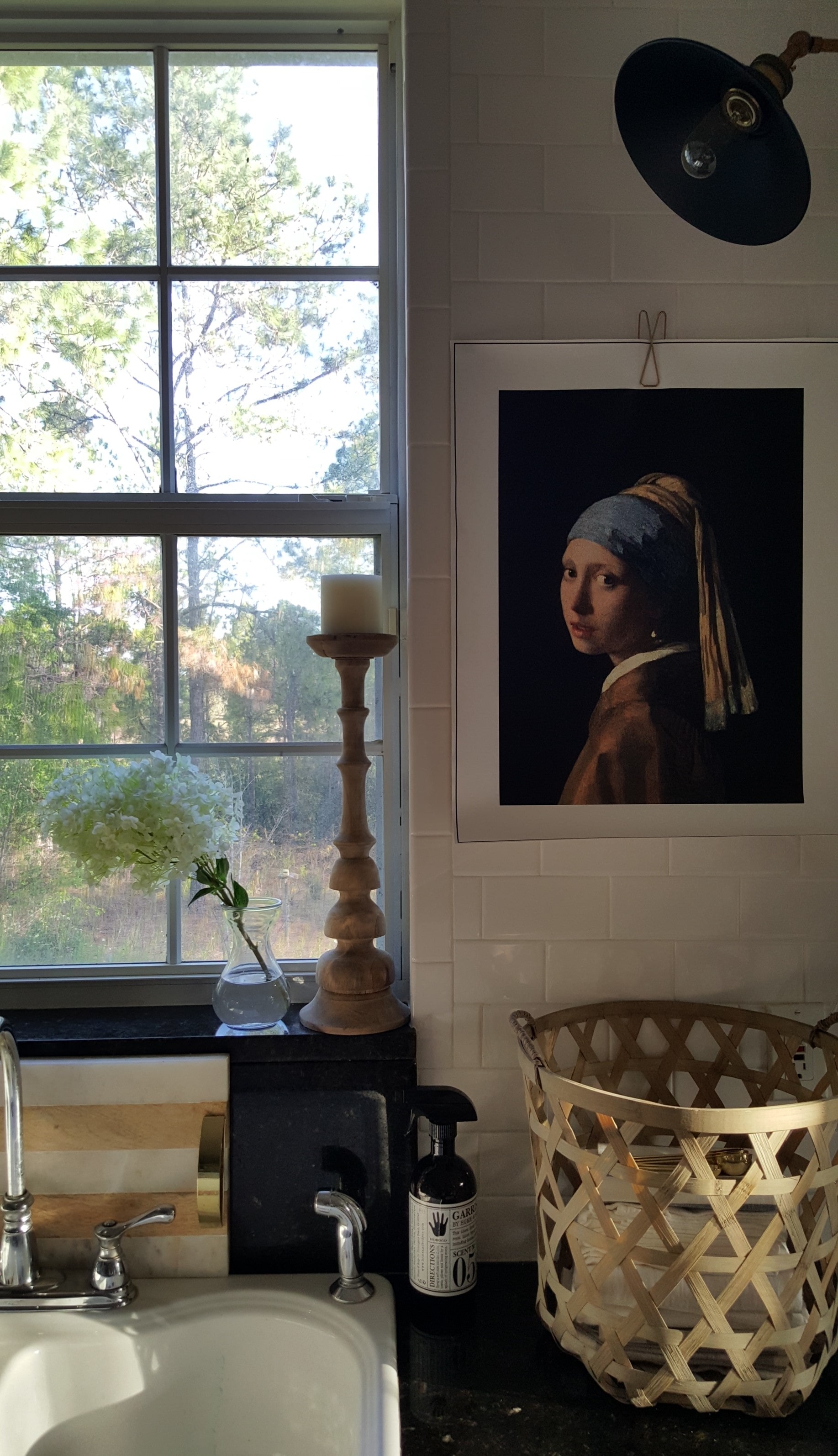 In the corner, you can see my favorite Kitchen Shelves. I love open shelving and here I can store and admire some of my favorite pieces. Ever changing, ever rearranging…do you have a space like that?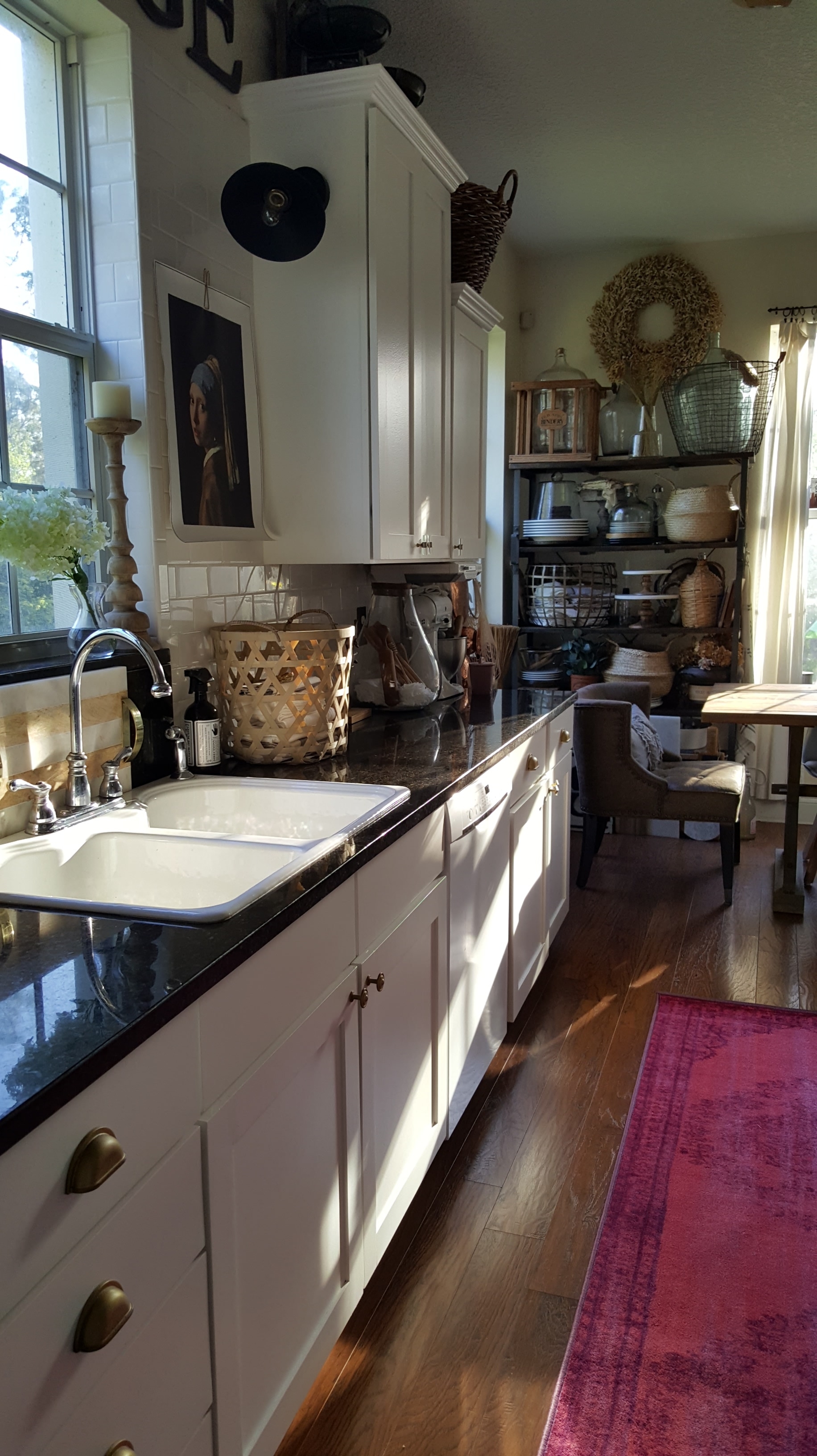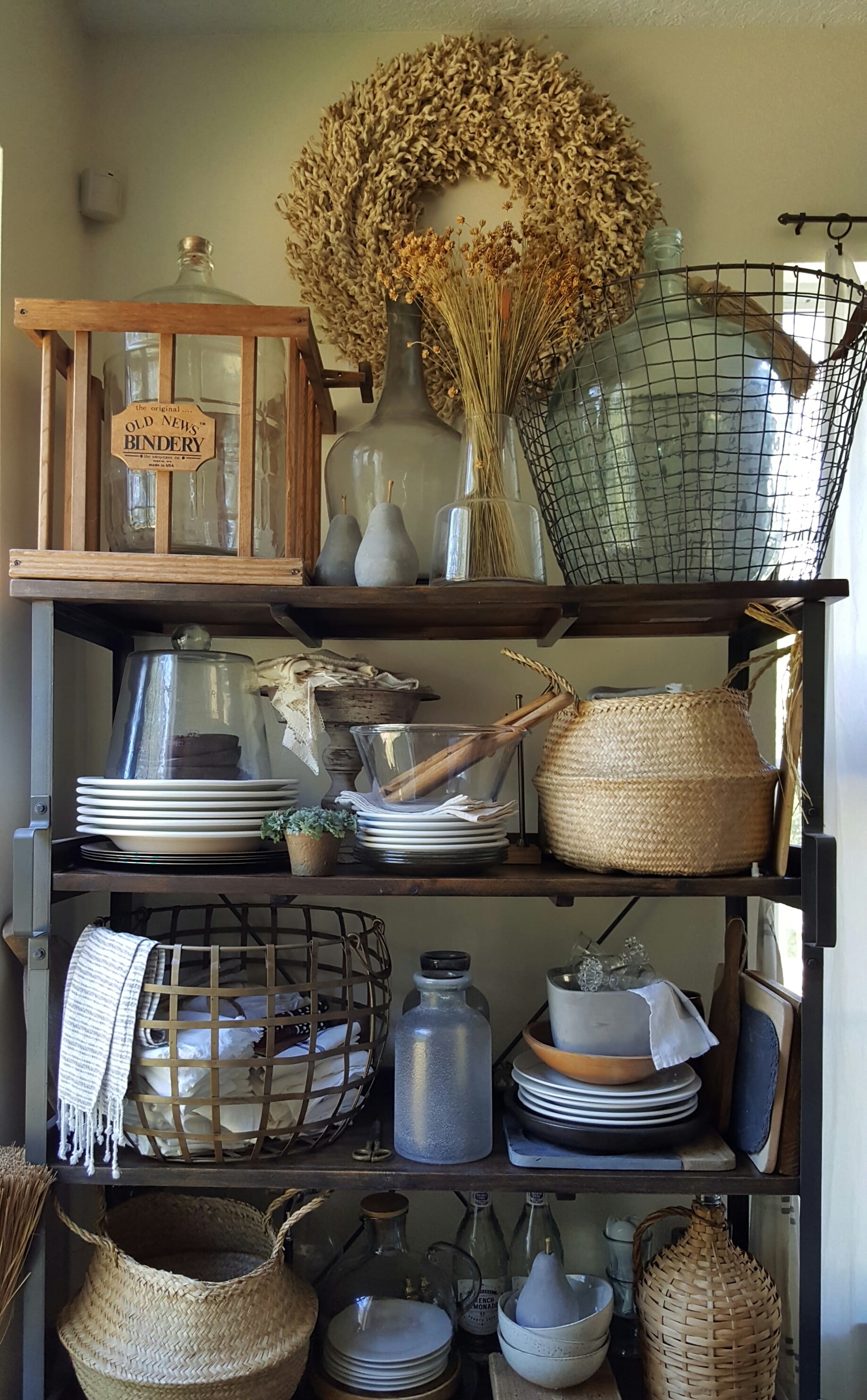 This brings us to the Farmhouse table that sits right in the kitchen. We use it for everything. Again, you'll notice I combined Industrial Lighting with a Rustic Farmhouse table and a mix of seating including some cool mid-century style ones.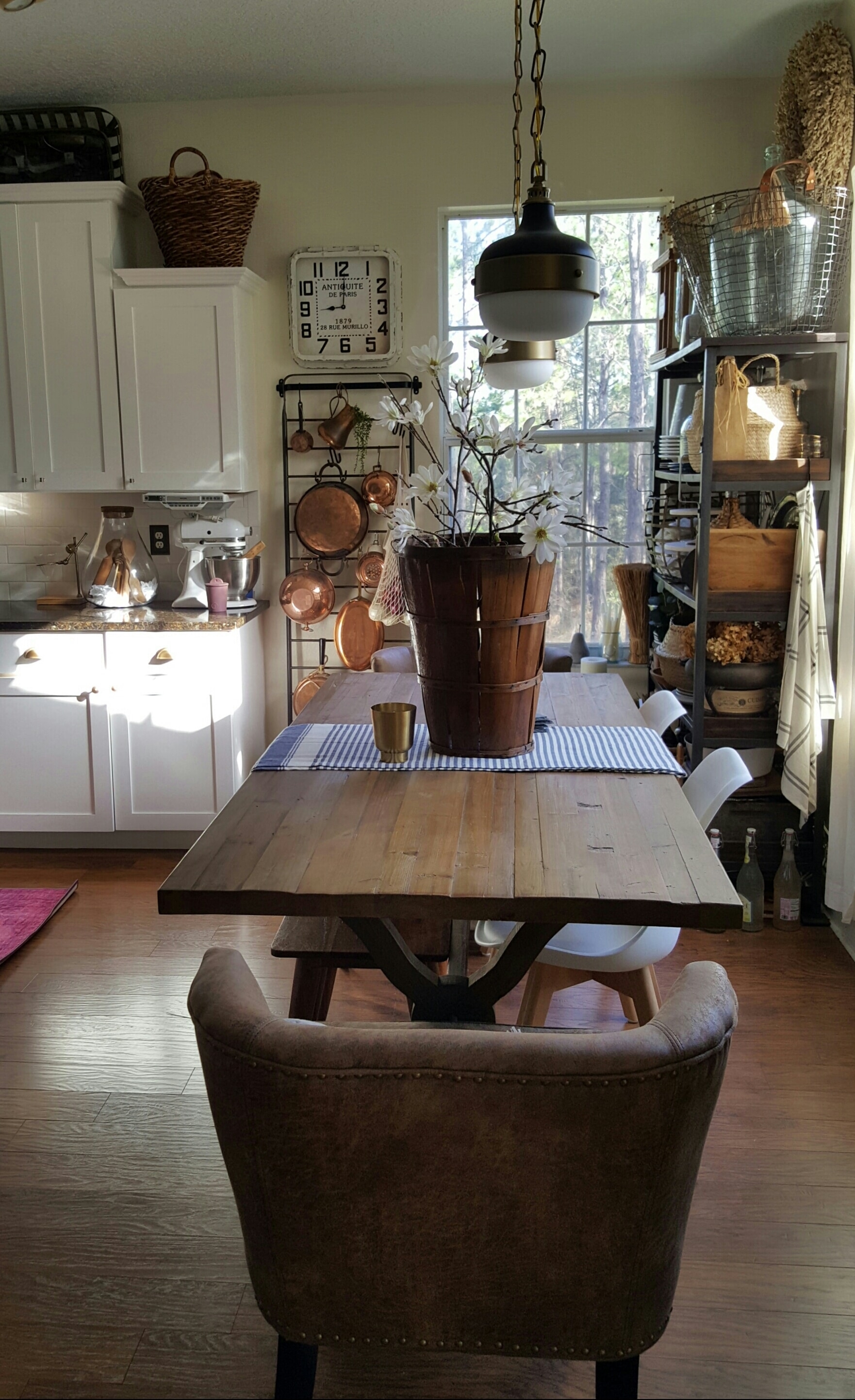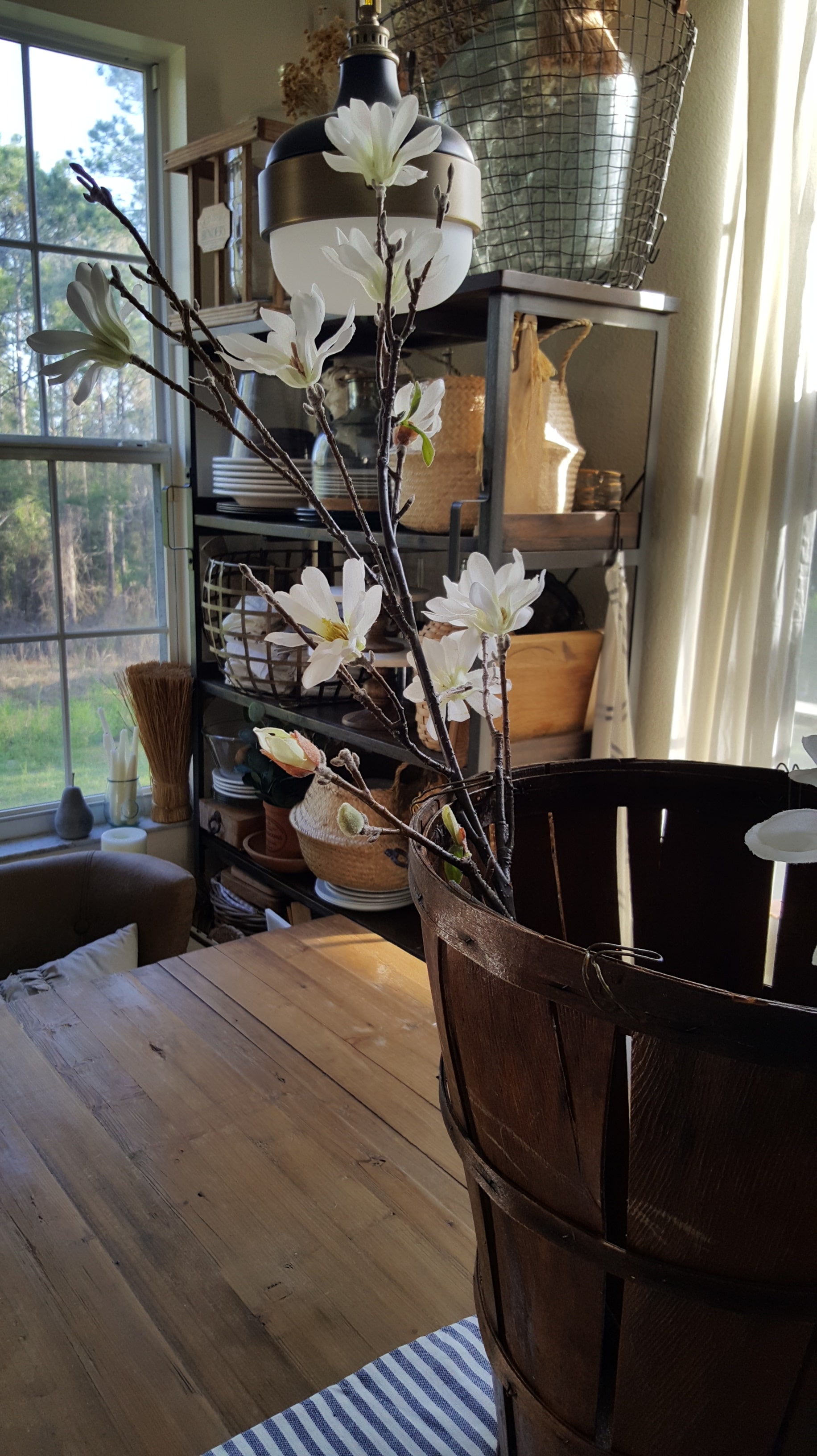 Last stop on this tour takes us outside the French Doors, to the back porch.
We did a One Room Challenge makeover on this space too, and completed it last Fall. I called it my Vintage Chic Eclectic Retreat, you can see more by clicking here to see how we did it. It's definitely a retreat for us and a space that gets used a lot by our family.
Again, you can see I mix old and new and in this space…lots of color!
From the Sunrises to the Sunsets, this space is enjoyed.
Well, that's a brief tour of the busiest parts of our home. It was so fun getting to visit with you here today at Fox Hollow Cottage. Stop on by Bees N Burlap sometime, and I'll take you upstairs and show you the rest of the house.
I just revealed our latest One Room Challenge! (like the one I did for the outdoor patio retreat & the kitchen) This time around, we tackled the Laundry Room[click here] .

I'd love for you to come tell me what you think!
Thanks so much for letting me show you around our home,
Holli
Instagram, Facebook, Pinterest
Want to peek inside MORE pretty homes?
CLICK HERE or on the image below…