Saw Nail Paint Seattle Cottage Home Tour
Hello! I'm Susan and I blog at

Saw Nail and Paint

. I am so honored that Shannon asked me to share a tour of my home with you. Shannon is one of the most generous and kind ladies out there in blogland, but of course, you already know that. I live in Seattle with my husband, two teenagers, dog, cat, 5 hens and hedgehog. On my blog, I share vintage furniture makeovers, DIY projects, and my love of home decor. My personal style is a mix of new, vintage, thrifted, and DIY projects all rolled into one. We have lived in our home for 14 years, and I don't think I have stopped decorating and redecorating since we moved in!
Front Porch and Entry
This is our front porch and entry to our home. The vintage chest on the front porch is one of my most recent furniture makeover projects. It makes a nice little spot to sit and take off your boots before coming inside.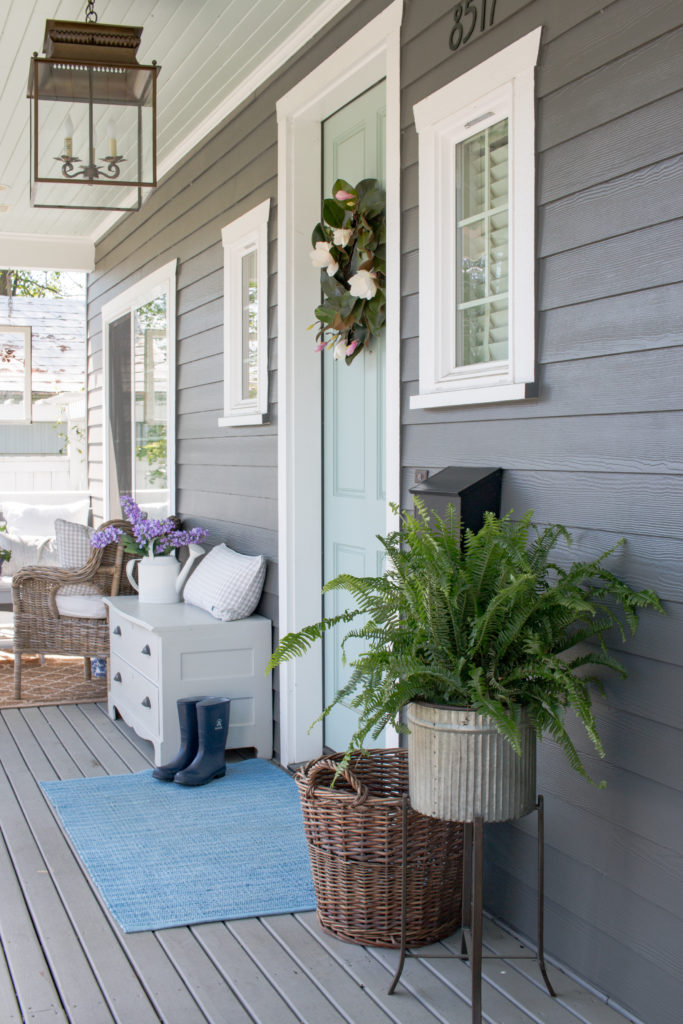 The front door is painted Benjamin Moore "Wythe Blue."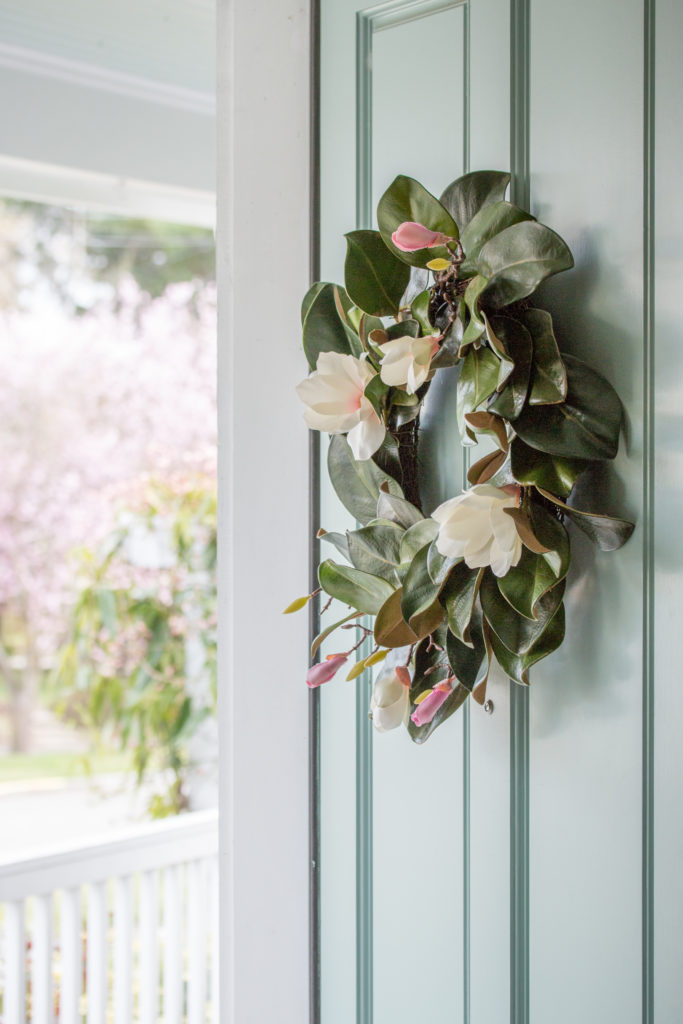 Living Room
The front door opens directly into our living room.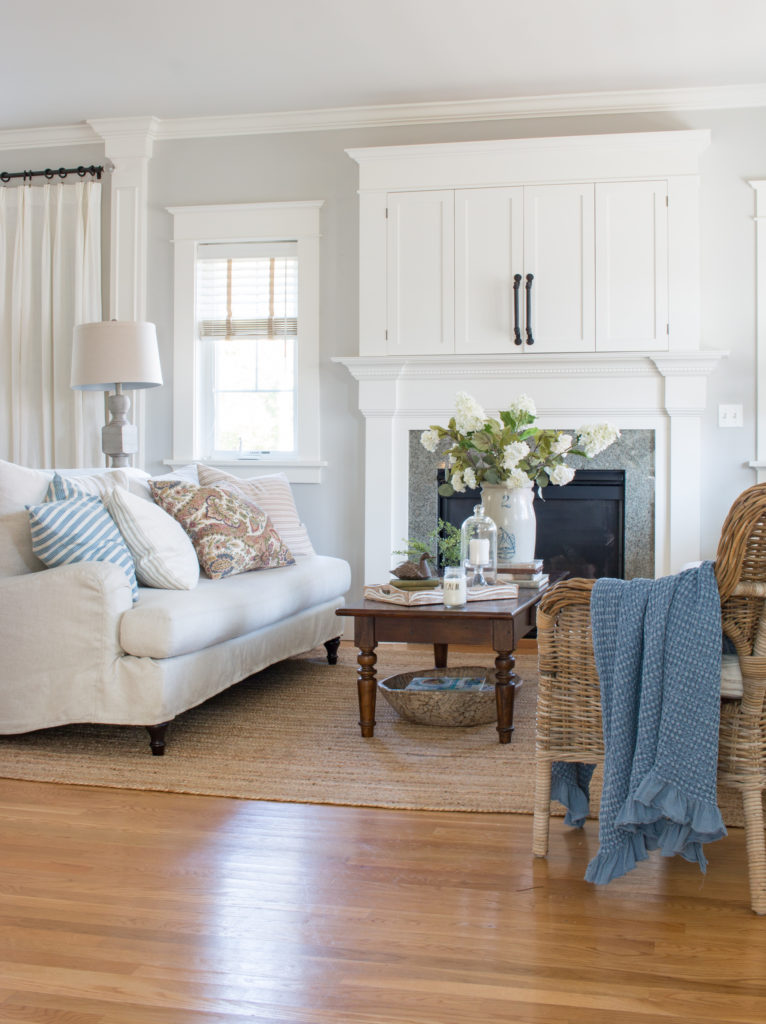 The cabinet above the fireplace conceals the TV. We love to hang out in this space and watch television, but it's nice to be able to close the doors and hide that big black box.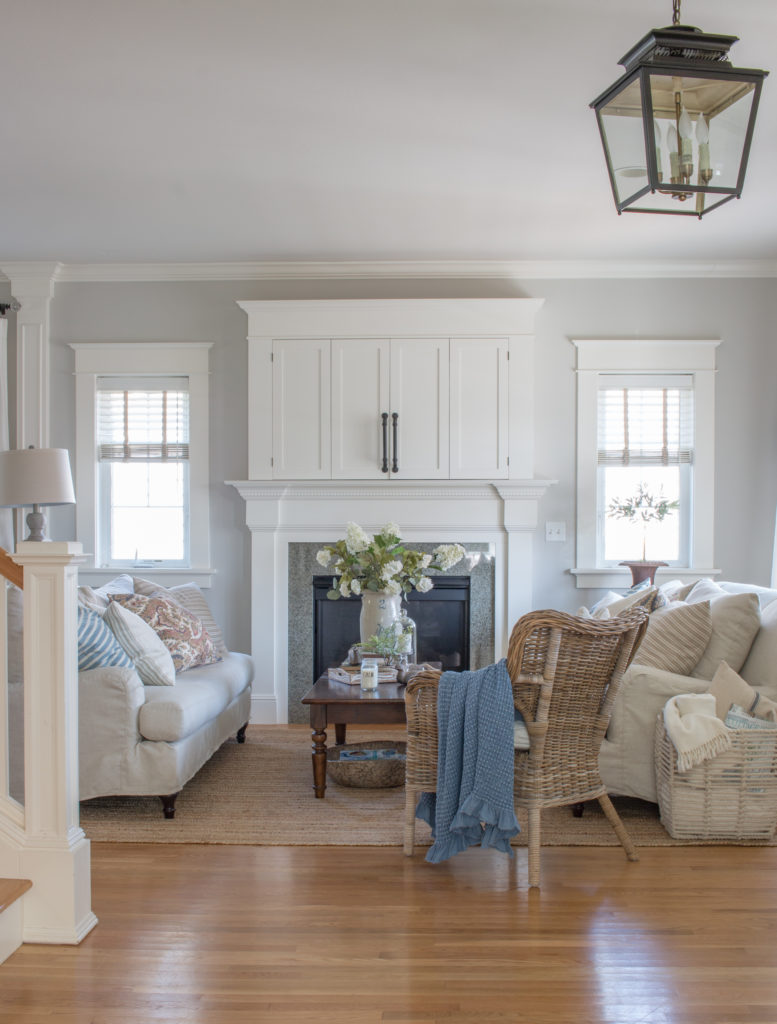 Opposite the living room, I created a small "mud room" in the corner. I added planks and hooks for our coats and backpacks. I found the vintage chair at the Goodwill, and left it in is perfectly worn and tattered state.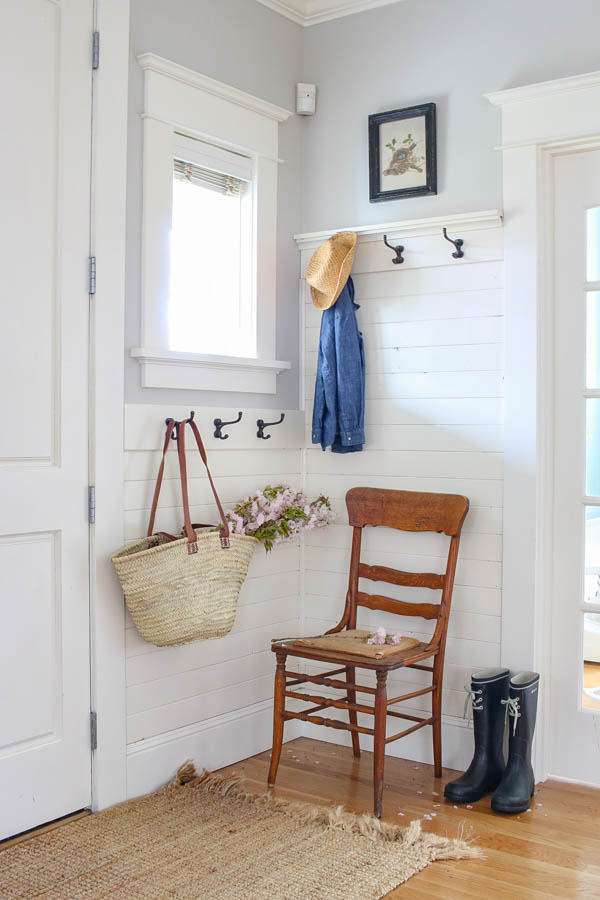 Dining Room and Kitchen
Our living room, dining room and kitchen are one open space. The dining table & hutch were both Goodwill finds that I spruced up with some paint.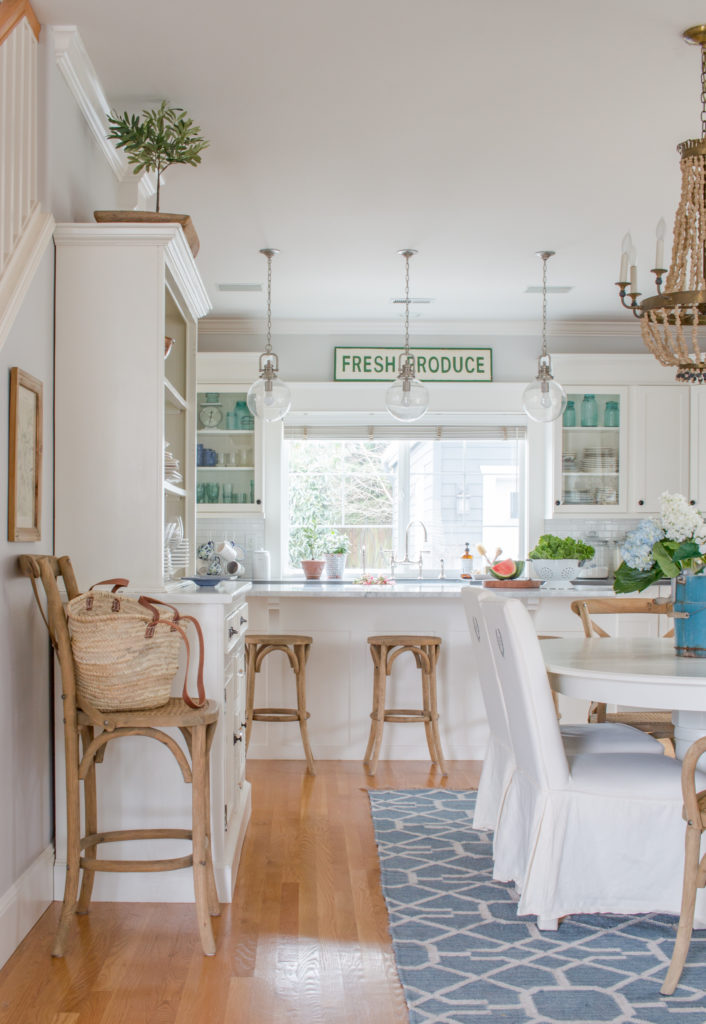 The vintage wood bead chandelier was a lucky Craigslist find. It was originally from an old beach house here in Washington State.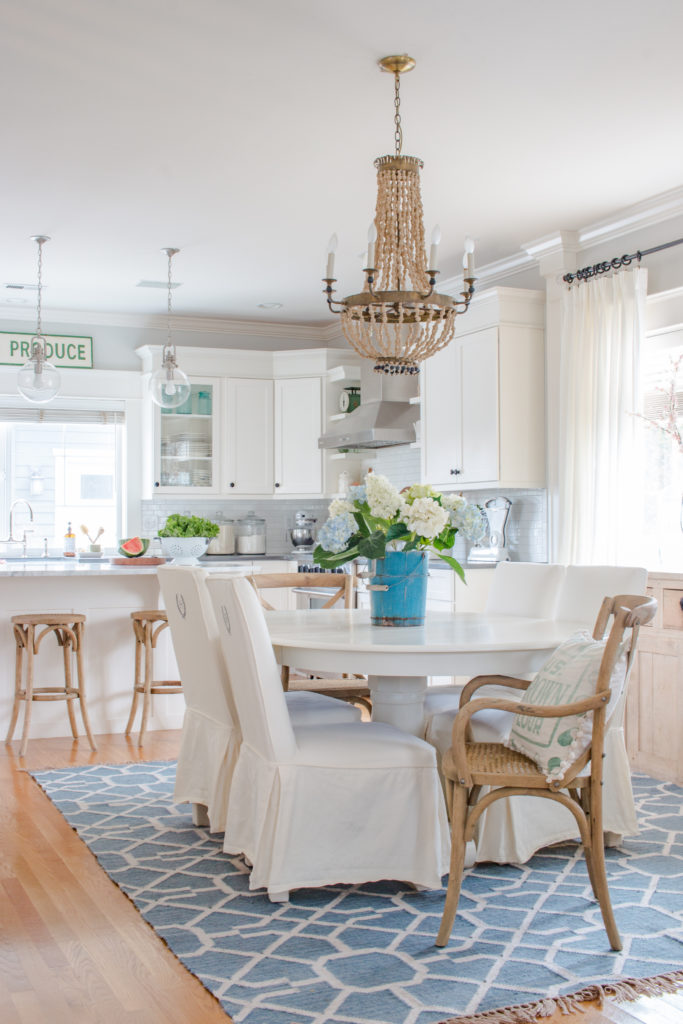 We remodeled our kitchen about five years ago. Although it was a new kitchen when we moved in 14 years ago, we remodeled to improve the function and to better fit our style. We moved the cooktop from the island to the outer wall, and added a larger range with 6 burners and a chimney style vent hood. We added new crown molding to the top of the existing cabinets, and custom shelves on the side of the range.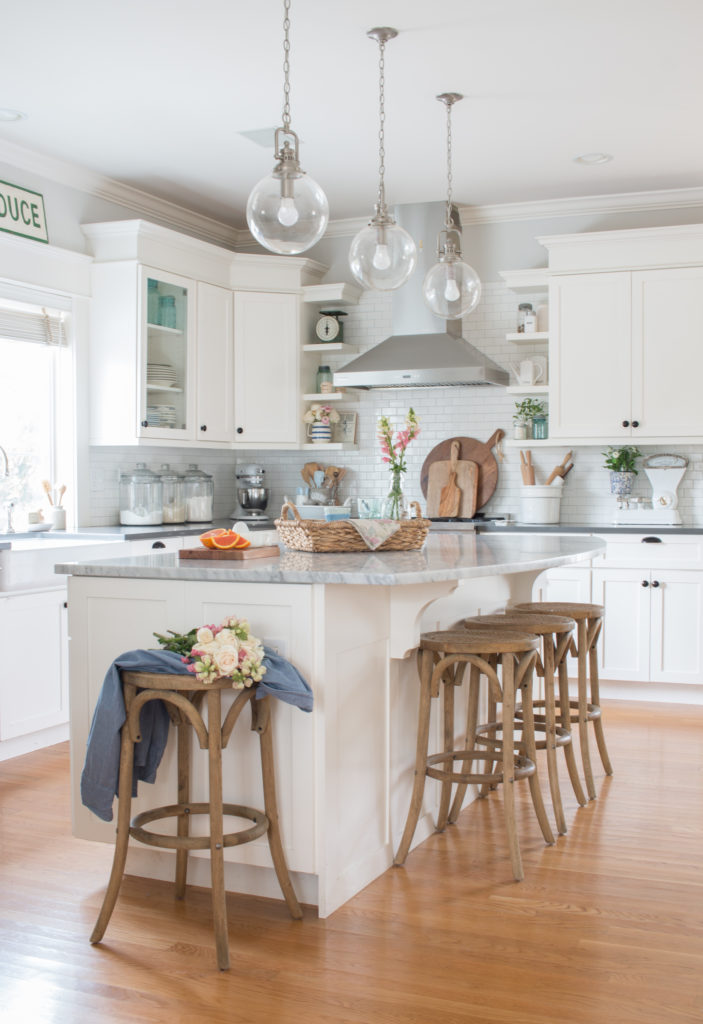 The island countertop is carerra marble and the perimeter counters are quartz. I used a simple 2 x 4 subway tile for the backsplash.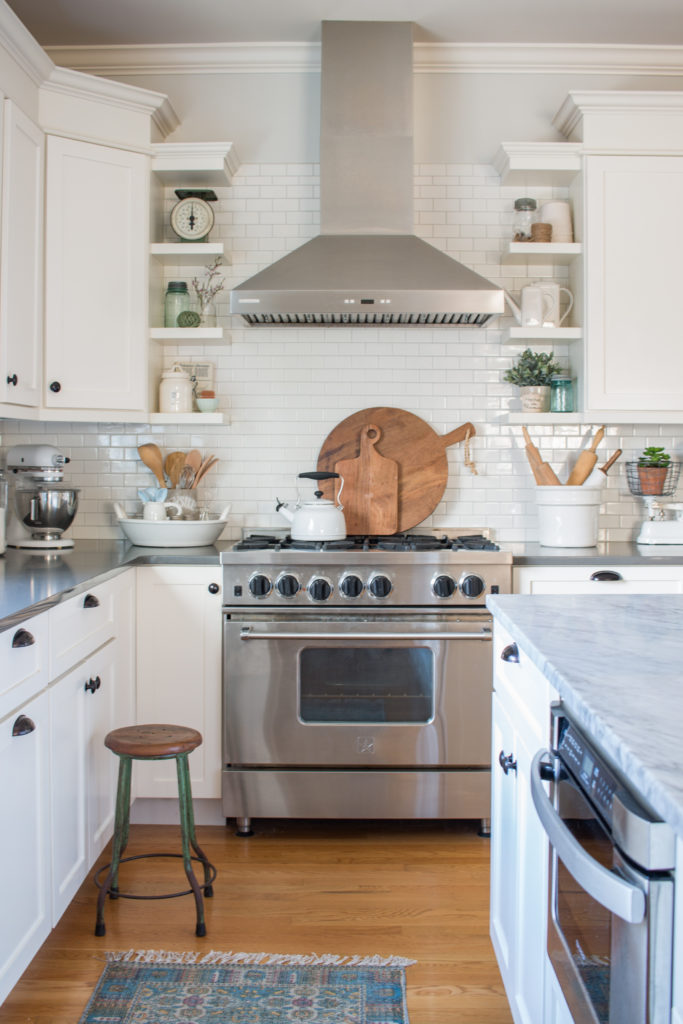 We retrofitted a farm sink into the existing sink cabinet and added the gooseneck bridge faucet.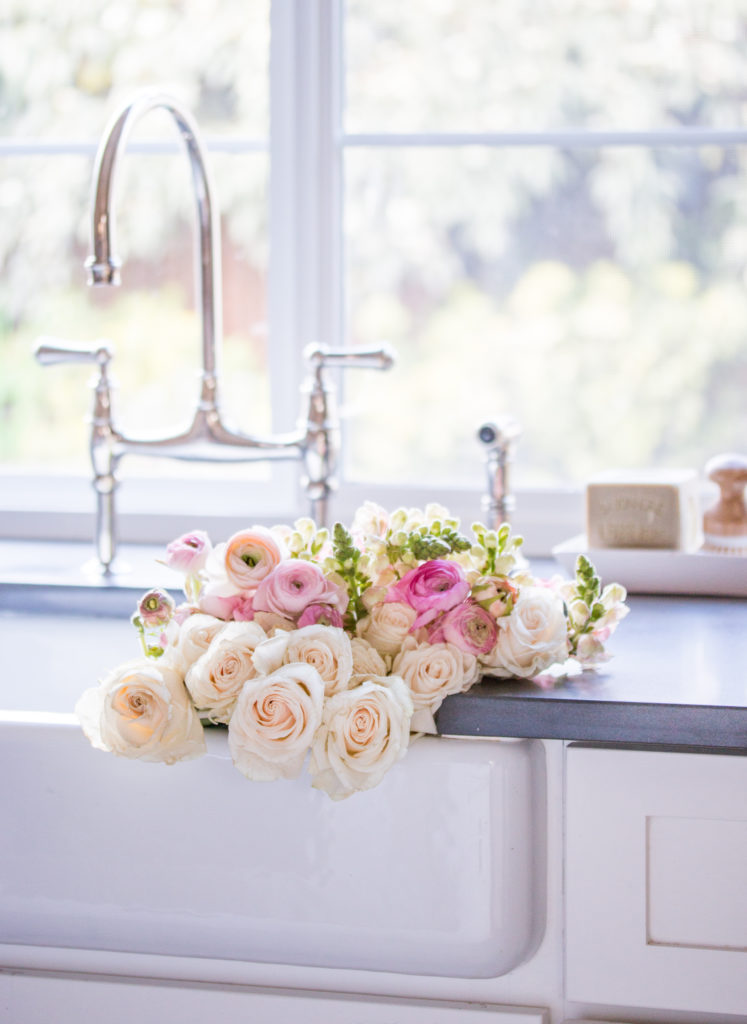 Family Room
Next to the kitchen at the back of the house is our den/family room. It's a small space, so I maximized the seating with a sectional sofa. It looks out onto the back garden, and makes a nice spot to sit in the morning and enjoy a cup of coffee.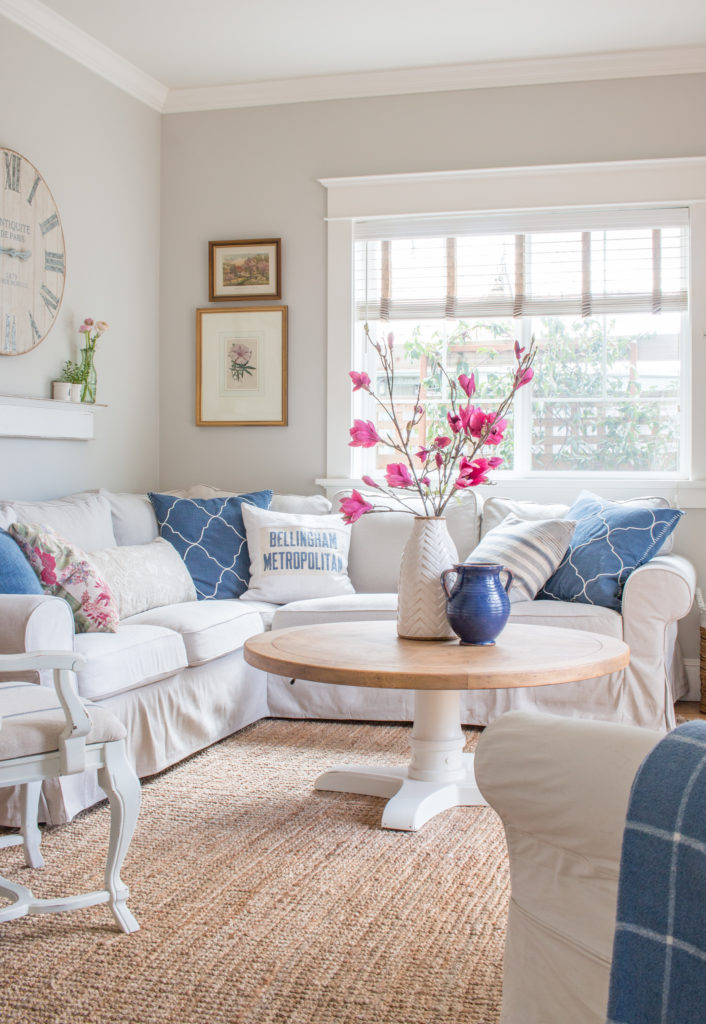 I repurposed a piece of salvaged crown molding into a decorative shelf.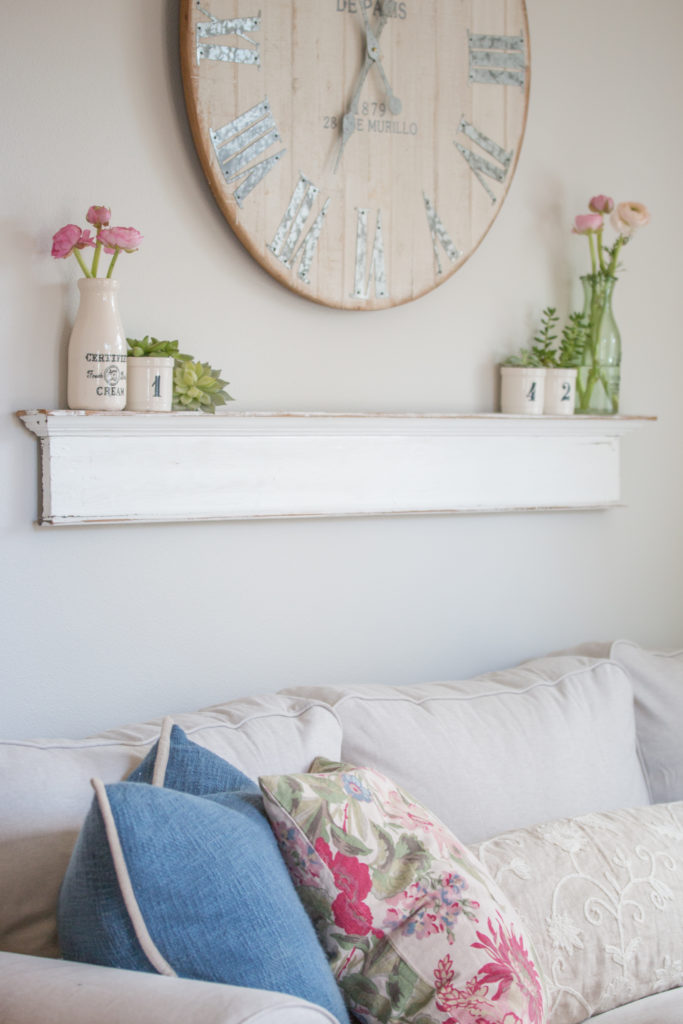 This cozy chair was another lucky find on a neighbor resale site. It's so comfy.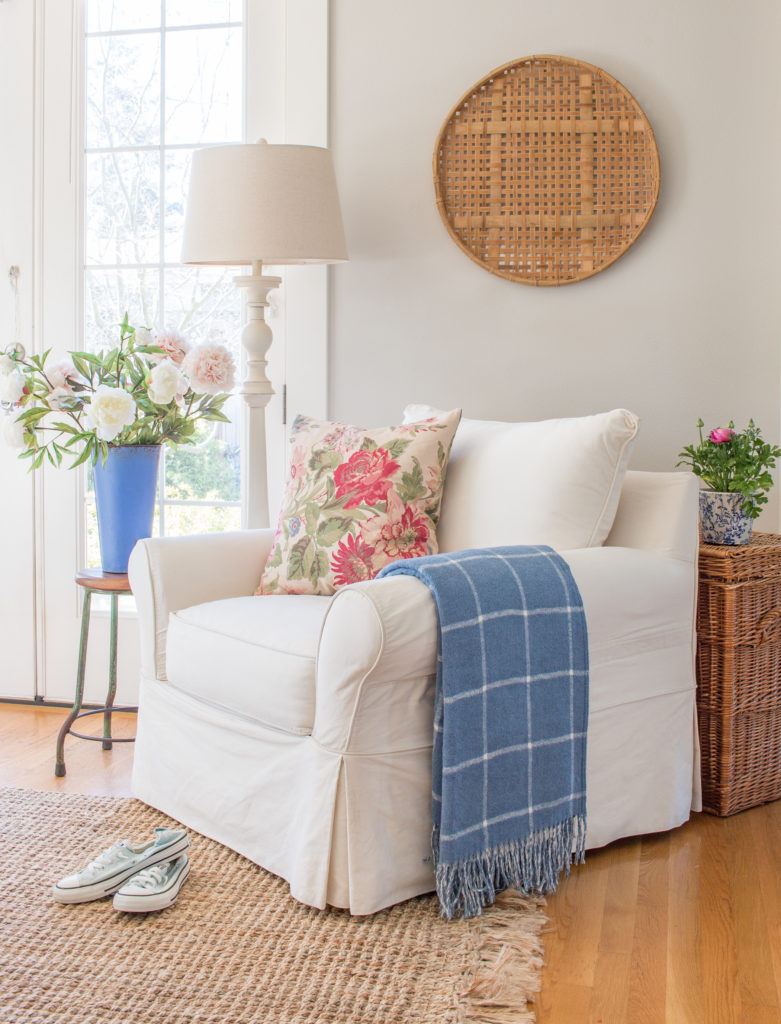 Master Bedroom and Bath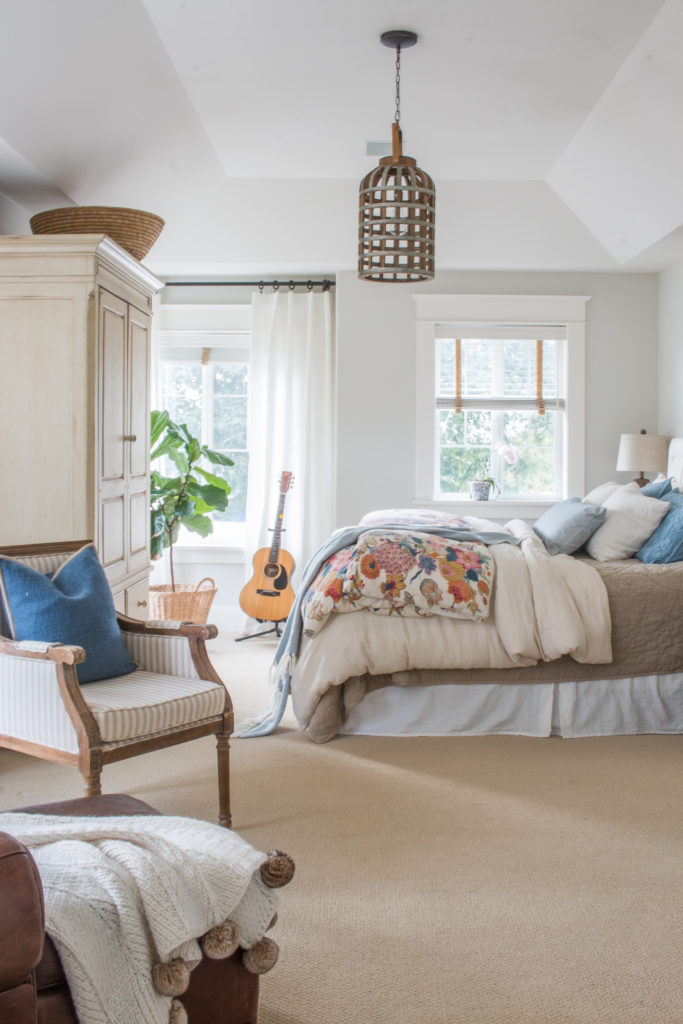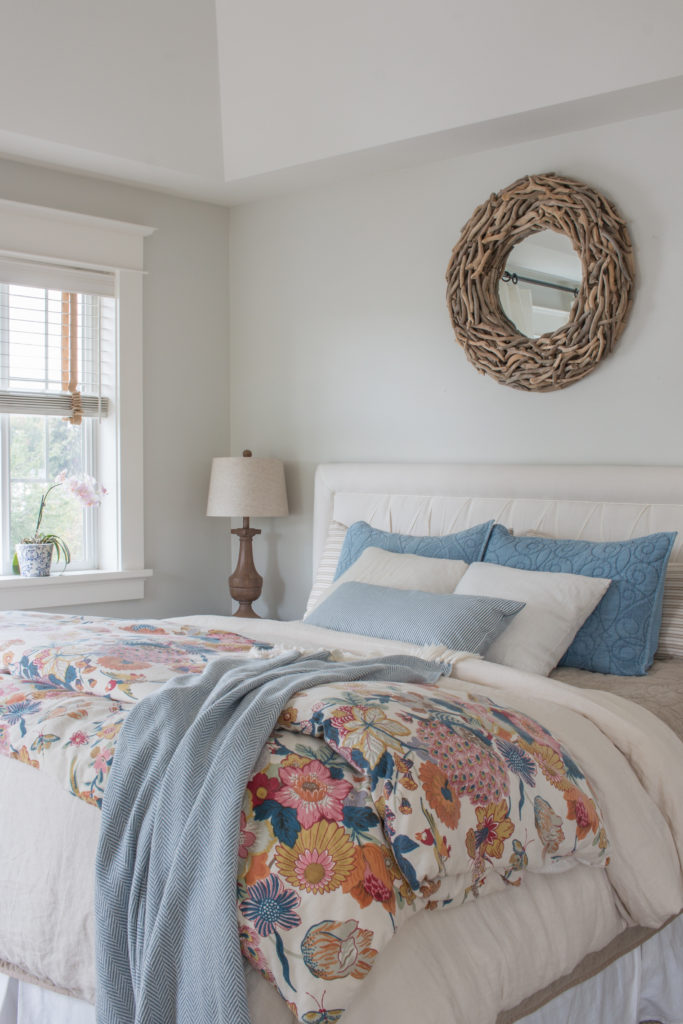 Meet Louie the cat. You will usually find him curled up on top of a cozy throw.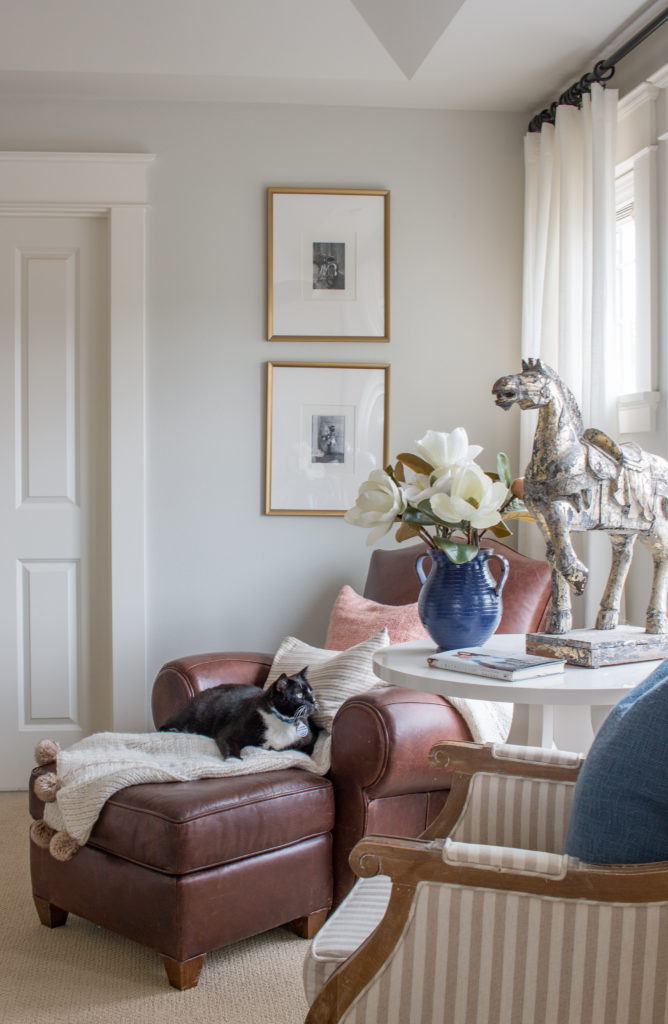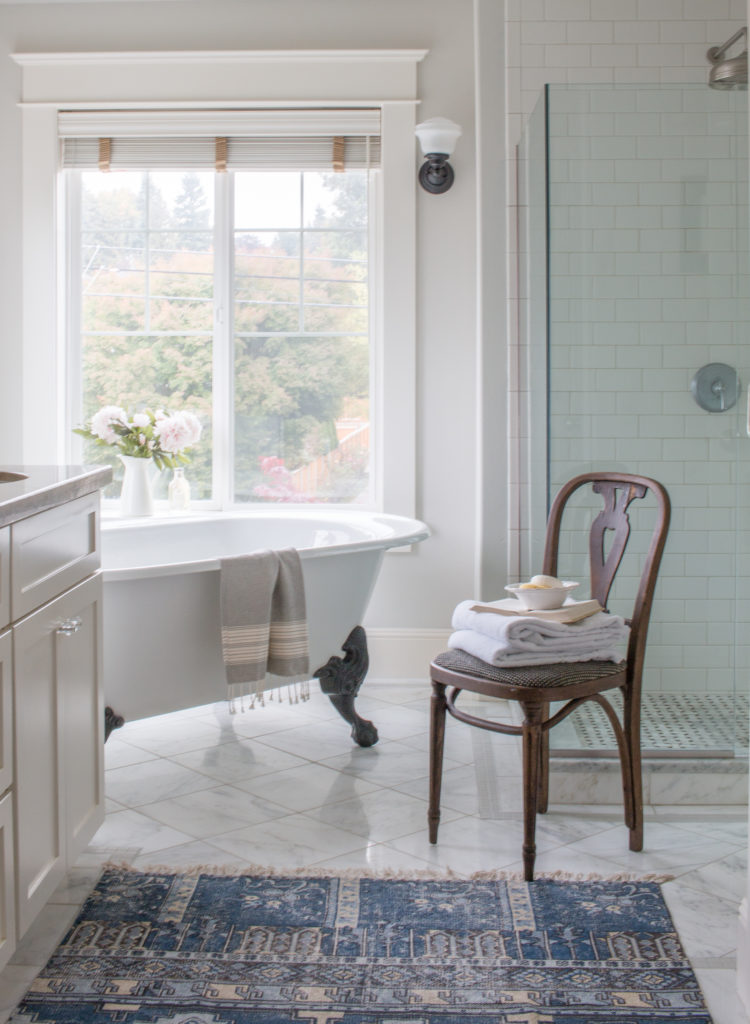 Sadie's Bedroom
I gave my daughter Sadie's bedroom a makeover last spring using mostly thrifted and vintage finds. The vintage bed was another Goodwill find that I left in its natural wood finish. I updated the dresser with paint.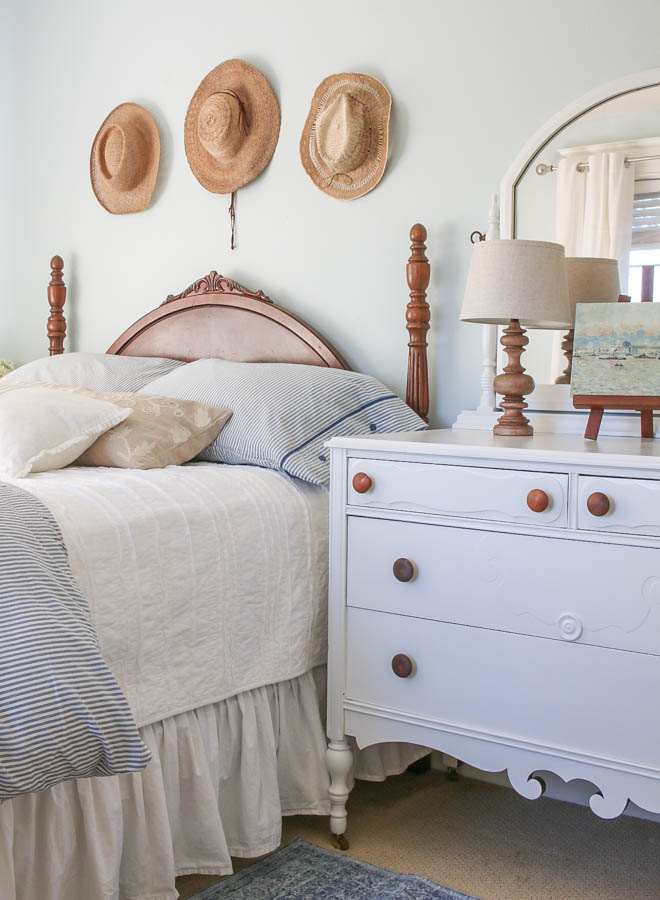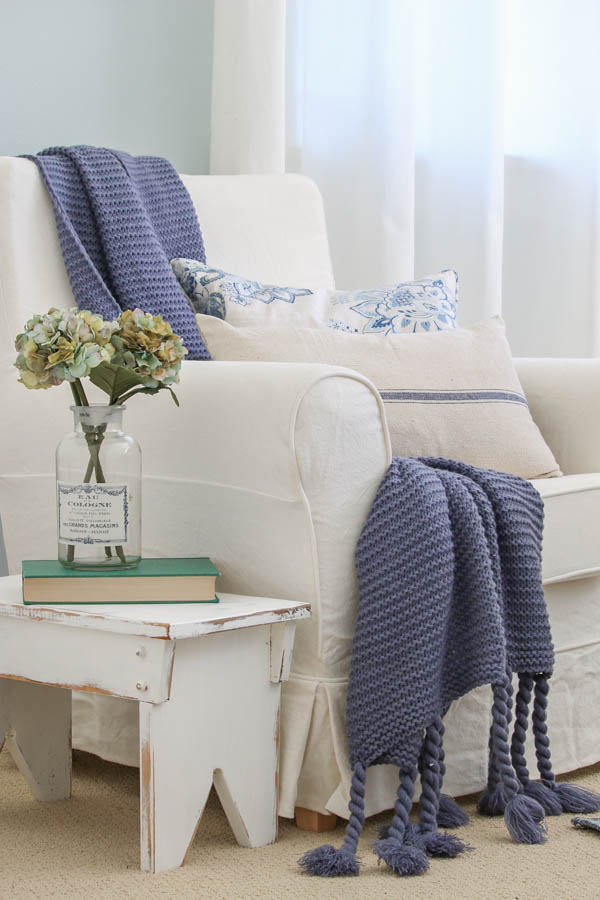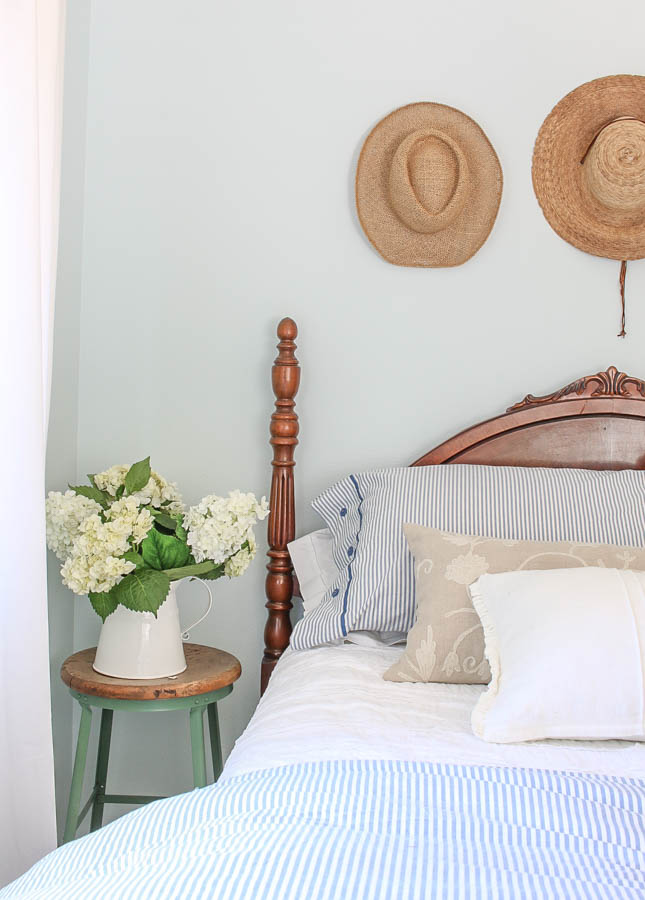 Kids' Bathroom
We updated the kids' bathroom by adding a new sink and cabinet, marble counter, bridge faucet and custom mirror.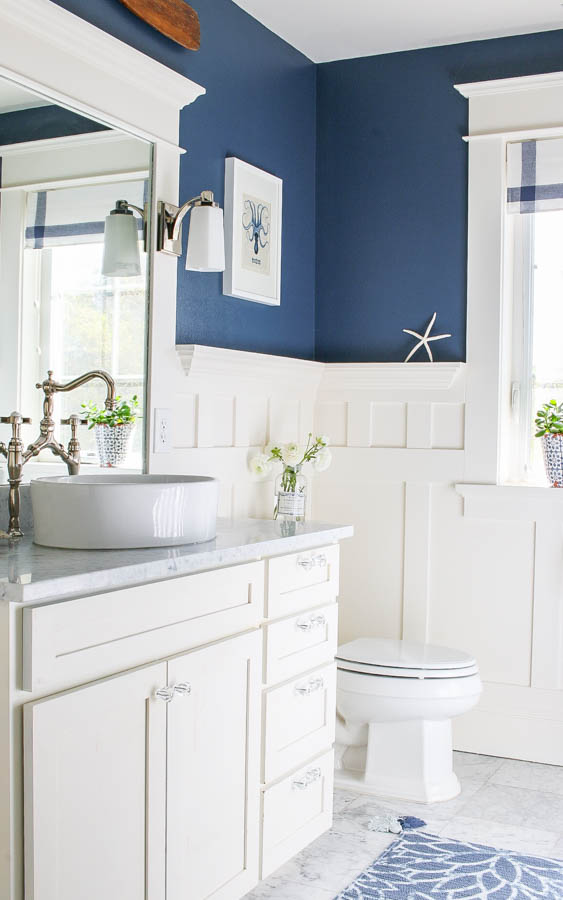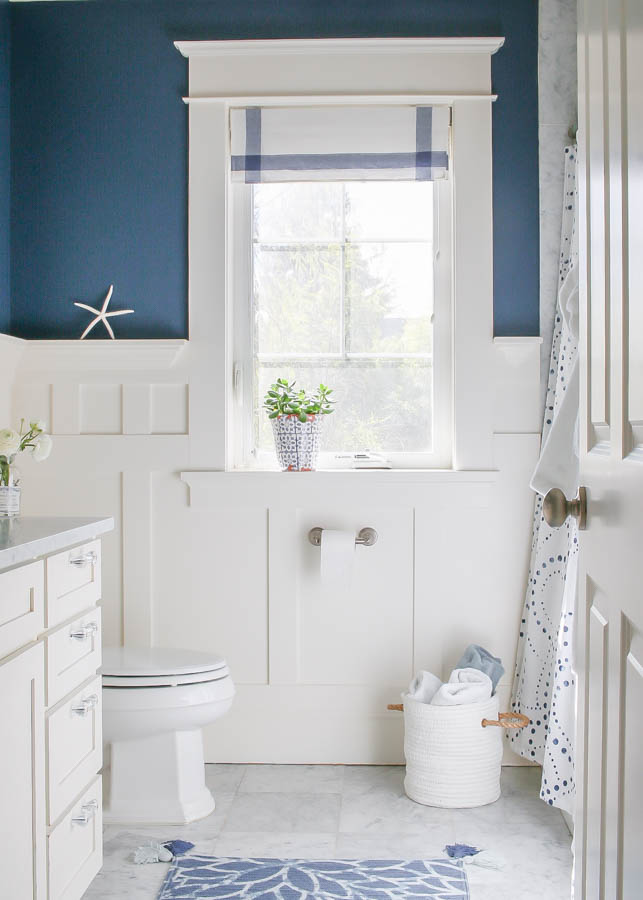 Backyard Garden
Like many homes in the city, our outdoor space is very small. Nonetheless, we have made the most of our postage stamp sized lot. This is the small deck off the back of our home.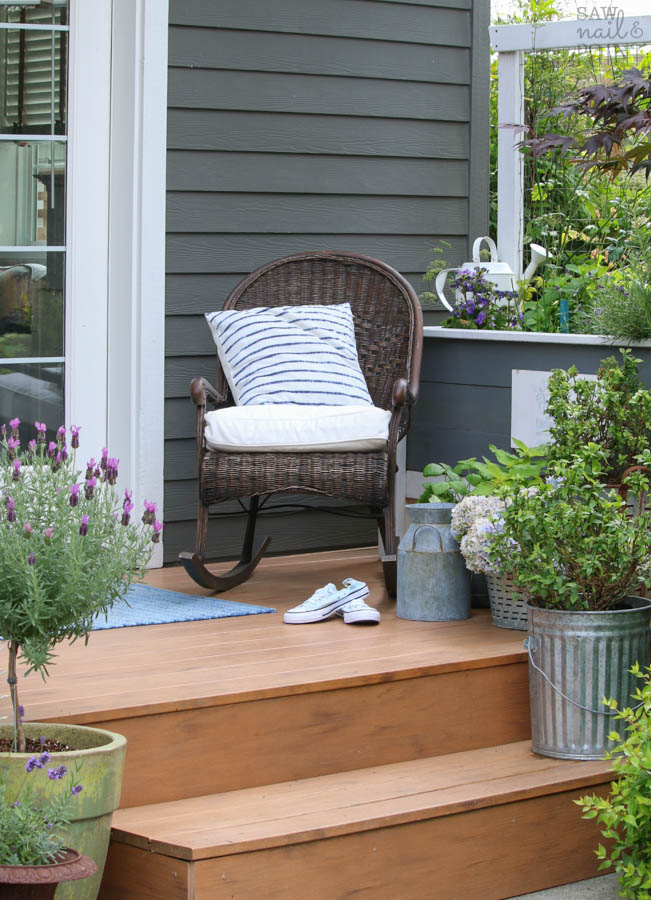 When the weather permits, we enjoy meals outside on the patio. I wanted a table for my garden that didn't look like outdoor furniture, but that would hold up outside. I built this simple farm table.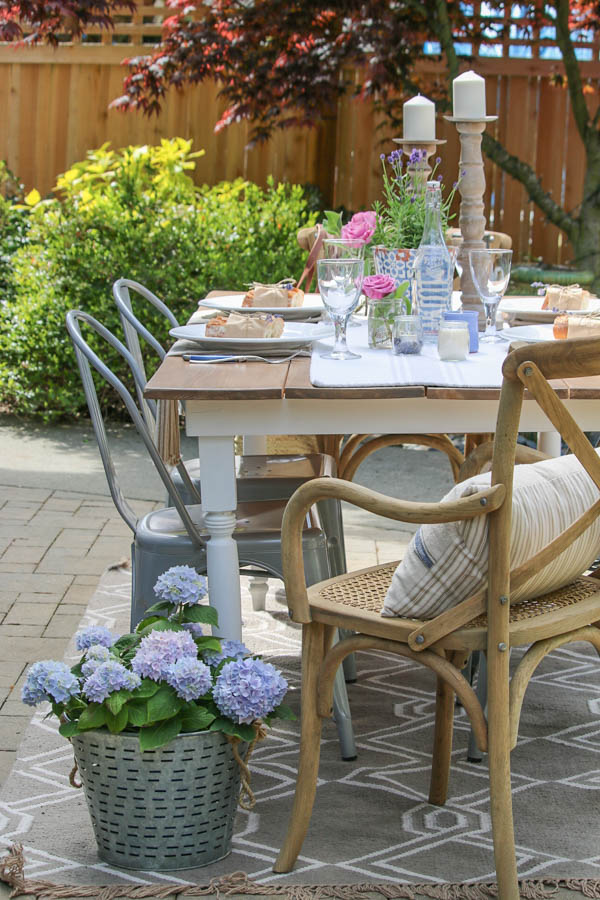 We have 5 hens who provide us with more eggs than we know what to do with. I built a couple of raised garden beds for growing vegetables. The vintage fencing keeps the hens out of the beds.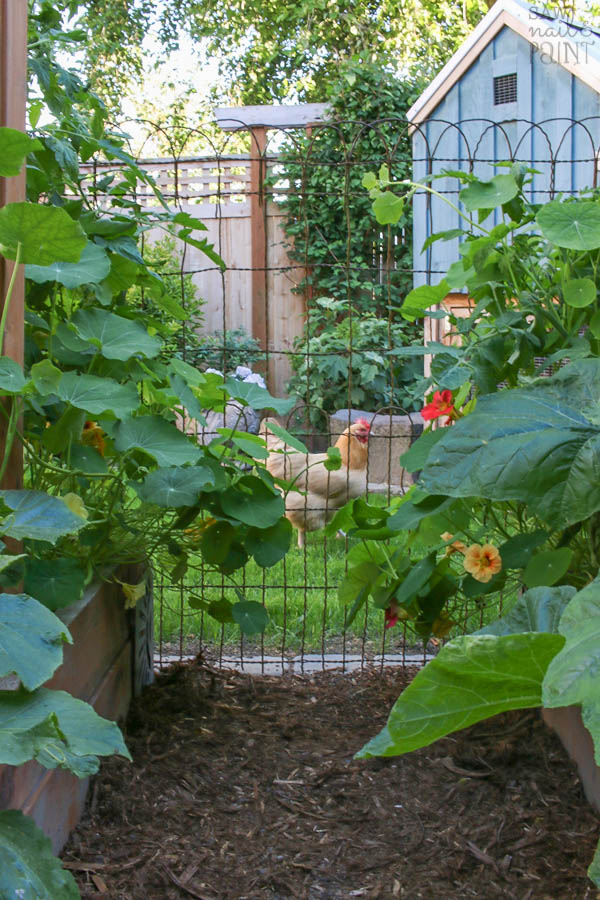 I painted the chicken coop with blue milk paint. An old Schwinn bicycle serves as garden art.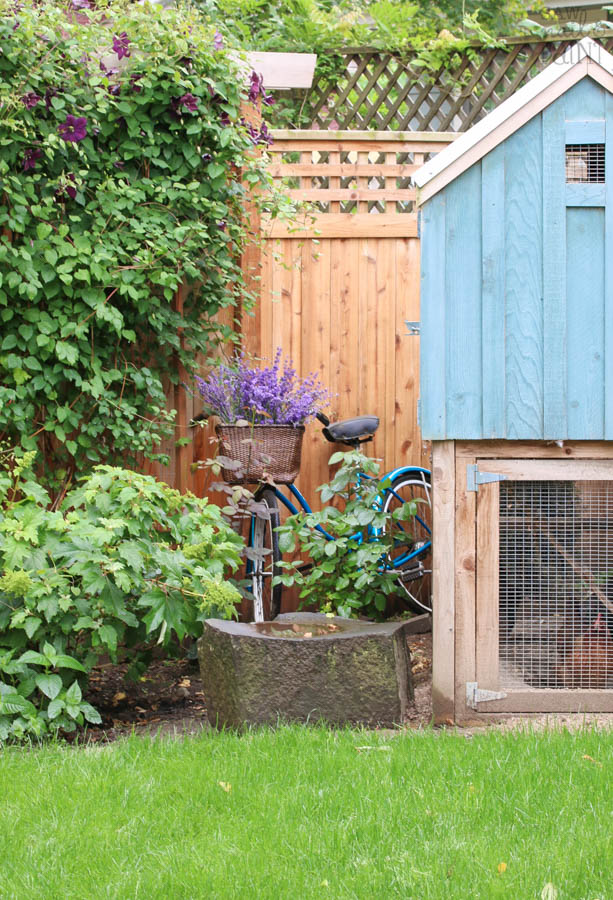 And this is my sweet old girl Kiko. She loves to hang out in the garden with our chickens and nap in the sun.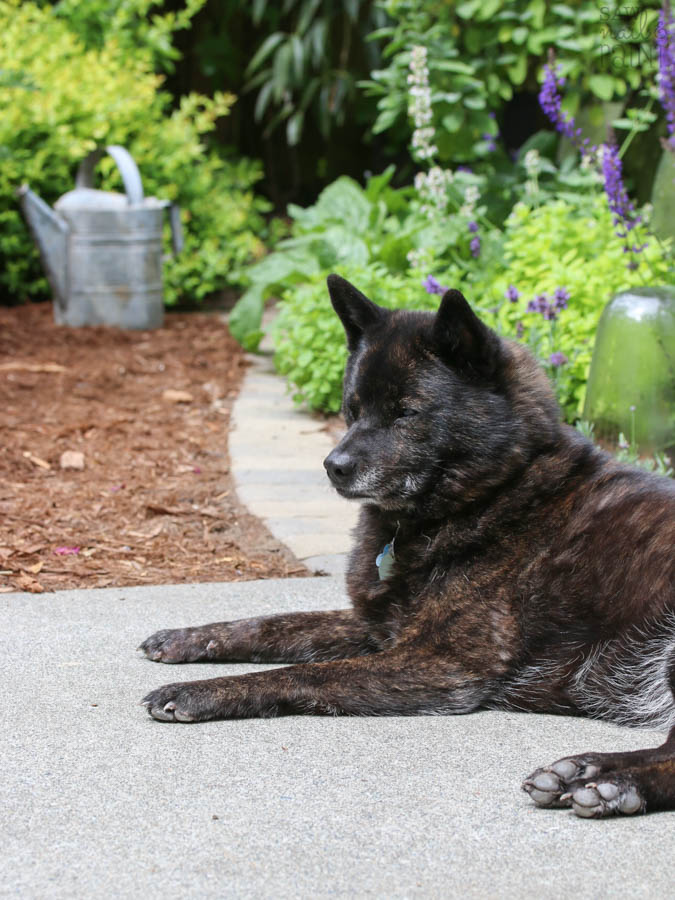 Thank you so very much for taking the tour. I am so grateful to Shannon for allowing me to share my home with you. I hope you will stop by Saw Nail and Paint and say hello! 
Want to peek inside MORE pretty homes? 
or on the image below…