Hello and Happy Monday! Thought I would play catch-up since I've been a bit MIA during our latest DIY. Most of you know we (meaning Jim) are in the midst of installing wood floors in our kitchen and main living areas. I mean, I help with what I can but you know they won't give up the power tools. lol. So far, we've got the sun room complete. We are already just so pleased with how it's looking, and have already done a bit of gazing at it. I am so proud of Jim!! He constantly amazes me with what he can do. He has never installed wood floors before, but it sure doesn't look like it!! (I think he surprises himself a little too) I never doubted him, I knew he would rock it!!
See? So pretty right! They are super dark and I love, love, love them!!!! I can't even believe these are going in my house. It does not feel real at all. Even though it's been sitting in the hall patiently waiting to be installed for the weekend. Not the greatest, it's a cell phone pic, but I don't really want my Nikon in the construction zone! I just know I would get paint on it!
I decided to paint every room that was getting new flooring, before the floors were installed. It needed it. And I was ready to lighten things up! My friend suggested that I get the best steam mop for wood floors to keep this awesome flooring in like new condition. I'll have to consider going forward but check a variety of different options first. Our Winters get so dark, that even my fairly light Cottonwood was not cutting it. And neither was the yellow/gold cast it added to every picture I took. Well that just wouldn't do. After lots of samples (on every wall) I decided to go white. Especially after realizing the majority of pictures I pin on Pinterest of rooms I "love" have white walls. I let that guide me.
I took on the task of painting all the dark trim in the sun room, and it's a task to be sure. That stuff wants to bleed through… and bleed through… but I won (after 5 coats) I'm stubborn like that.
Here is a half and half view. In person, it's like night… and day!
The reason you see half done, is because right behind that pony wall, our super secret staircase starts. Pile the vaulted ceiling on top and no-thank-you. We have professionals doing that section for us. I know my limits, and I don't have the proper equipment. (They are super, fabulous painters! If your local, I'll get you the name.) They did the little cottage last Summer for us.
For the walls, I'm using Glidden High Endurance Plus 2 in 1 paint and primer in the stock, off the shelf, white. Coverage is super! You can almost get away with one coat. Even over my chalkboard wall! (Yes, it's a goner) I wanted a total fresh start. You can see the little test spot I did with the ceiling paint in there too. Oh my. They were so drab. I am tickled to be getting white, bright, fresh & clean feeling ceilings. Lots of work, but so satisfying!!
(Look! I won.) hehe.
Seriously though, this is the chalkboard wall after ONE coat! I was impressed.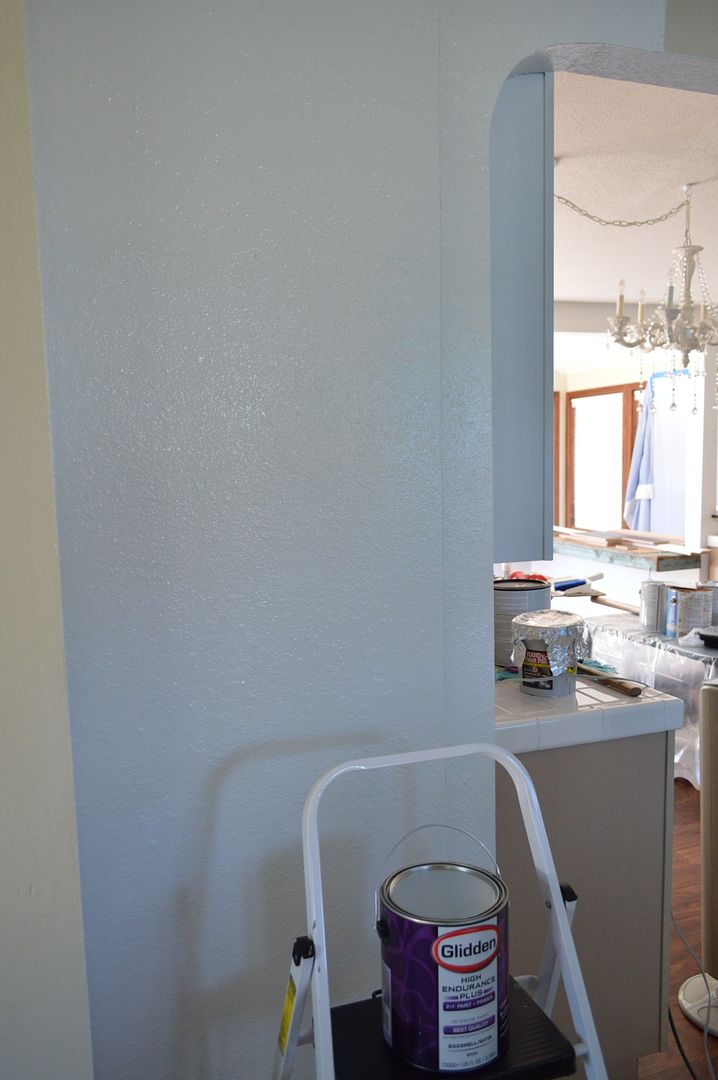 We are using BM acrylic latex ceiling paint flat (how the label reads) in white for the ceilings. You can see a little during action going on here. The ceilings are looking so good. I am just tickled about how much brighter everything is.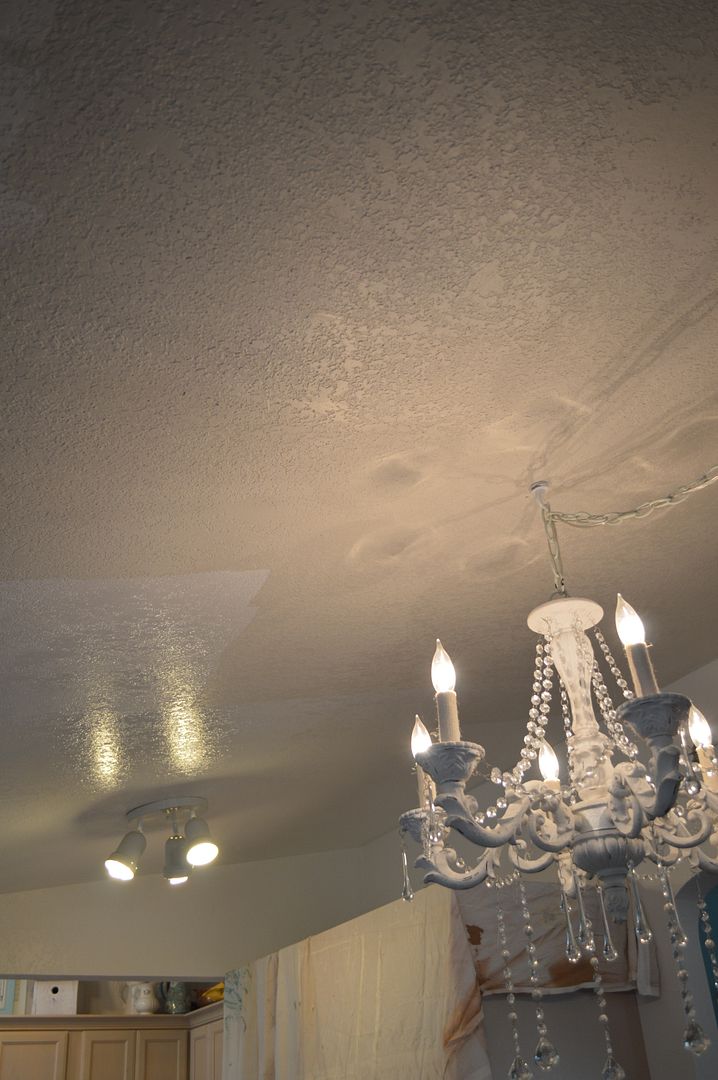 These are the mock-ups for the baseboards. The shorter is for the sun room, the clearance below the windows isn't very roomy, so we couldn't do the fatty trim in there, but still wanted it to match. The reveals are identical.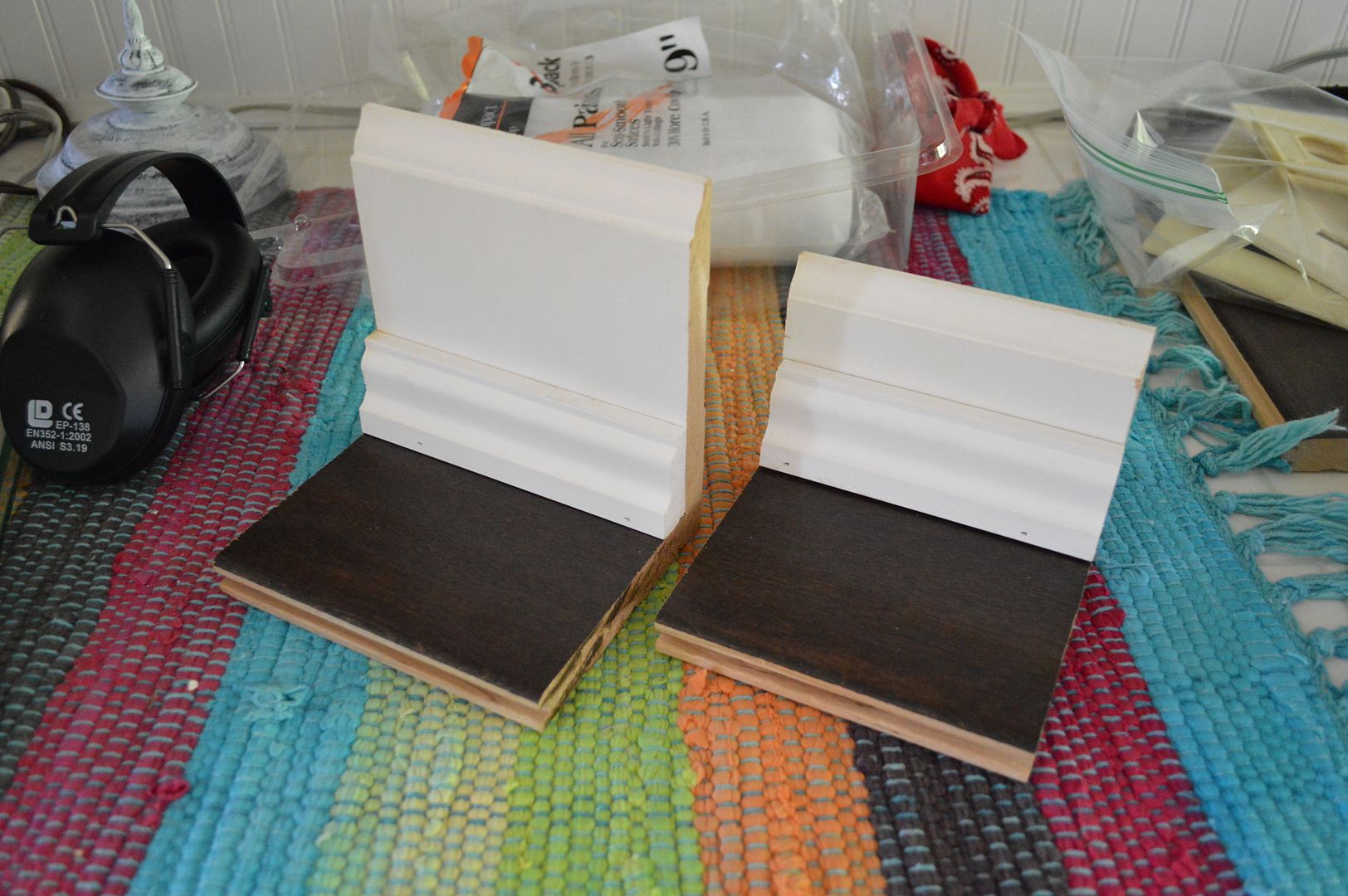 That is it for the "happenings" today.
I am super-beat! Hope your week is off to a great start.
PS: … and in the interest of a real life moment, here is my Summer mantel.
(you know you want one just like it!) lol